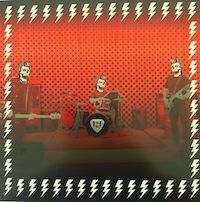 Black Interceptor b/w Bee-Music - 50LgE (Rare bone Records)
Ensconced in sub-tropical Far Northern New South Wales - where the hippies are numerous and the sheep would be scared if they weren't so mellow - 50LgE is a band that clearly likes to do things its own way.
You'd issue your debut single as a 12-inch slice o' vinyl, right? Cheap to ship (not). Although the included download card is a nod to modern technology, that's a lot of vinyl to hold two songs and the run-out groove goes forever. 50LgE have their own DJ cranking garage rock tunes between sets, and also boast their own brand of beer. Now you're talkin'…
First, the intros: This is a garage rock-influenced trio whose number includes ex-The Eastern Dark drummer Geoff Milne, bassist DB (ex-The Tellers - from Brisbane) and guitarist Tone Changer, whose own cv includes a spell in the Psychotic Turnbuckles back when he was a kid. So you know that two of them have had the good sense to get out of Dodge (aka Sydney) and make a tree change.