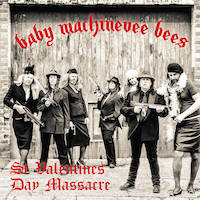 St Valentine's Day Massacre - Baby MachineVee Bees (self released)
The pairing of Wollongong's female tearaways Babymachine with Queanbeyan-via-the-Gong-and-inner-western-Sydney yobs The VeeBees for this three-song, 10-inch EP fell out of a Lemmy tribute bill a few yars ago on which both bands appeared. It's a match made, not in heaven, but the back bar of the Sunset Strip's Rainbow Bar and Grill.
Taking a leaf out of the book written by Motorhead and Girlschool, "St Valentine's Day Massacre" mixes the bloodlines, if not the bodily fluids, of two bands with a similar spirit. The result is a song by each act and one joint effort. Babymachine tackles "Bomber" while the VeeBees put paid to Girlchool's "Emergency". The A side, "Please Don't Touch", is a lesser-known Johnny Kidd and the Pirates number.