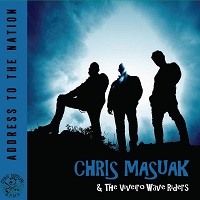 Hello from the Dimboola farmhouse folks and has it been rocking here! The reason is that Chris "Klondike" Masuak and the Viveiro Wave Riders have released a rocking good album. Their second long player, "Address to the Nation", is the follow-up to 2016's "Brujita" and is pure guitar driven tracks from start to finish.
Myself, I think it's a lot stronger than the first album - there is less pop and more grunt.

Well, let's start with any folks who are not savy to Klondike's cv: RADIO BIRDMAN, HITMEN , THE NEW CHRISTS, JUKE SAVAGES, NORTH 40 and the wonderful SCREAMING TRIBESMEN. To name a few.