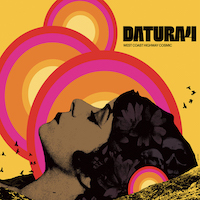 West Coast Highway Cosmic - Datura4 (Alive Natural Sound)
From the opening title track, Datura4 roars into life like a modern-day Steppenwolf. They're all Hammond organ, vintage synths and a rock band, intent on making a statement.
Datura4 employ a massive wall of sound that departs from Dom Mariani's preferred '60s space into late '60s-early '70s, Deep Purple shtick - without the overindulgence of Ritchie Blackmore. Datura4 still displays its garage roots, but is a blend of Arizona desert rock a la early Alice Cooper... albeit updated with modern sounds.