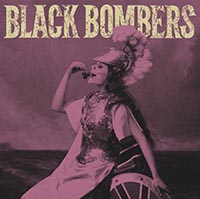 Last Bite b/w You Take My Money -Black Bombers (Easy Action Records)
So, Black Bombers are on tour through UK, which to many of us may seem bizarre as the place is far more riddled with the stupidvirus than we are in Australia. However, almost everyone's been vaccinated and boosted, and the latest major variant, BA.2 doesn't wallow in the lungs like a family of grumpy hippos like the Delta and Co did.
Now: there's only 300 copies of this single and I can't imagine there'd be that many left. Get on it while you can.
Why? well, first, the BBs are freaking awesome (as the young folk used to say) live and if you only have what they've released so far - a self-titled LP, a seven-inch "'Rush" b/w "Raw Ramp" (a Bolan cover), and the mini-LP "Volume 4", then you know what you're in for, and any and every release from the BBs is greasy dark manna from Purgatory.