Louder Than Love - The Grande Ballroom Story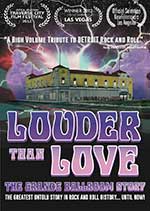 Seismic changes in music don't occur spontaneously. They're usually a result of people unwittingly being in the right place at the right time, running into a catalyst and stumbling over a big stockpile of serendipity.
Does anyone think CBGB would have been anything more than the source of dogshit on the soles of a few Bowery bums' shoes if Hilly Krystal hadn't been conned by a supposed bluegrass band into giving live music a try?
How quickly would the Sex Pistols have fizzled out if Queen hadn't cancelled on Bill Grundy at the last minute, presumably so Freddy could get his nails done? McLaren had no more planned the TV outburst that propelled his band to infamy as Steve Jones had sworn off the booze.
In 1966, a former dance hall on the shady side of Detroit called The Grande Ballroom became both a focal point for the counter culture and a scene. It attracted and generated a strain of high-energy, blue collar rock and roll, the likes of which have been seen rarely anywhere else. It came into being through good management, but also through incredible luck.
It's creator, visionary ex-schoolteacher Russ Gibb, had some form as a promoter, putting on teen hops in the 'burbs, but the catalyst for greater things was a meeting with uber promoter Bill Graham during a visit to a friend in San Francisco. Graham was impresario-in-residence at the nationally-known Fillmore West. What Gibb saw and heard encouraged him to to push on into the concert promotion A grade.
Ballrooms of the kind that Graham promoted came on the rock and roll continuum after county fairs and small teen clubs and before outdoor festivals and stadia. They were massively influential as enablers of tours by homegrown American bands and the British invaders.
Introductions to Fifth Estate publisher Harvey Ovshinsky and recently-minted MC5 manager John Sinclair gave Uncle Russ his connection to the underground - and the cachet to tap a vein of teen discontent. The rest, as they say, is history.
And now, almost 50 years later, a brilliant documentary.
"Louder Than Love" is the work of Tony D'Annuzio, a Michigan TV production manager making his debut as an independent filmmaker. He's had a great story to work with but precious little in the way of live footage. The only way to give life to the story was to tell it through the words of the participants and D'Annuzio has done so with consummate skill.
It's not all about just the MC5 or the Stooges; "Louder Than Love" covers the Five's rise especially well - mainly through Wayne Kramer and John Sinclair, both of them raconteurs who could talk under water with a mouthful of marbles - but also paints the Grande as a favourite Midwest stop-off for bands like the Who, the early Fleetwood Mac, Jeff Beck and BB King.
Anecdotes power this movie like oars pulling a boat. There's the story of how the Grande crowd put all hands to work to bump out for Cream one night in December - just so Eric, Jack and Ginger could make their flight home to the UK in time for Christmas. Then there's the one about Led Zeppelin using the support's nondescript backline when their own gear failed to show up in transit on their first US tour, and blew away the full-house regardless.
Five drummer Dennis Thompson, Alice Cooper, Ted Nugent, Who photographer Tom Wright (who liked the Grande so much he took on a job as manager) and The 'Oo's Roger Daltrey underline important aspects of the story. Uncle Russ is modest and self-effacing. Iggy is conspicuously absent. Sadly, so are the Ashetons.
Of course The Grande wasn't just about the music. Wayne Kramer and Ballroom regular Ruth Hoffman talk about the sex and drugs with candour and humour. Hoffman talks about swigging Jack with a woman side-of-stage, and getting thoroughly toasted, only for her companion to get up and join the band. Janis did like a drink.
Editor Karl Rausch does great work with what live footage exists, weaving in shots from other times and places quite seamlessly. Fittingly, it's the decaying, abandoned Grande herself that takes centre-stage, often with vignettes from key figures projected onto her spaces.
The soundtrack is ace. If only similar musical releases had been signed for the makers of "A True Testimonial", the killer documentary about the MC5 that was torpedoed by people other than its independent makers through a combination of greed and not a little vanity. C'est la vie.
The Grande as a rock and roll venue only ran from 1966 until the start of '72 and Gibb's involvement ended well before the final curtain came down. (Ironically, the first headliner the MC5 was also the final one, by then ground down by smack and indifference.) But if it's not one of a dozen or so places that could be cited as having an impact on the course of rock and roll and a broader culture, you can take me out and shoot me with one of the White Panthers' AK-47s.
There are some nice bonus features, the strangest being a Grande lightshow that can turn your TV into a psychedelic hot spot for a few minutes. In totality, "Louder Than Love"is essential viewing if you have the slightest interest in rock and roll.

Tags: iggy pop, stooges, mc5, wayne kramer, grande, louder than love