BARFLY TOP TEN: Brisbane's Phase 4 Records & Cassettes and LCMR record label honcho Donat Tahiraj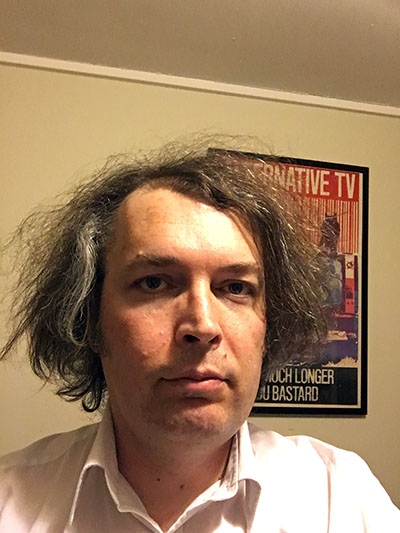 2017 was a great year to celebrate the 50th anniversary of The Velvet Underground & Nico and "Forever Changes", the 40th of "(I'm) Stranded" and the 25th of something great (and local) which came out in 1992 that was more than likely one of Ed Kuepper's. And speaking of Mr Kuepper, let's launch into this Top Ten the Barman asked me to do.
I'll just prattle on about live shows I've seen as they're probably more entertaining than my thoughts on Cosey Fanni Tutti's autobiography "Art Sex Music" which isn't rock & roll enough or director Kriv Stenders's recent feature documentary on the Go-Betweens which is probably too wimpy for readers in I-94 Land.
Fair enough - they're not everyone's cup of tea – especially if you prefer coffee.
1.-7. THE AINTS 2017 AUSTRALIAN TOUR OF THE EAST COAST
Apparently the best way to describe someone who follows Ed Kuepper's shows from town to town is to call them an Edhead. In 1976, Saints fans were known as Kuepper Troopers as it was understood that even in those early days it was Ed's band - up until 1978, at least.
So fast-forward to 2017, The Aints awake after a 25-year hiatus and decide to tour through the most of the country's capital cities doing Saints material from '73-'78.
My partner Julie and I missed Adelaide and Perth but we caught the other seven shows of the tour which started in Brisbane. From overhearing The Who's "Substitute" and the old cowboy tune "Red River Valley" getting a high wattage rendering in soundcheck to the setlist itself, which changed ever so slightly on a date-by-date basis.
What Australian audiences hadn't heard since 1977 in Brisbane, Sydney and Melbourne at least, was these Saints songs played with the guitar doing what it should and the rhythm section (of bassist Peter Oxley and drummer Paul Larsen) keeping up with the pace and the ferocity flowing out from Kuepper's amp – you know, that "buzzsaw guitar" which the English critics always stopped to mention.
In addition to hearing everything you'd want heard from songs written and performed in '73 - "Nights In Venice" and "Messin' With The Kid" to "Brisbane (Security City)" and "The Prisoner" from five years later, there was also a smattering of unrecorded Saints songs, including "Demolition Girl Part 2", "S.O.S. '75" and "The Church of Simultaneous Existence". Needless to say they were mighty as they were mighty surprising to have been added to an already full set of tunes.
This Edhead would've liked "The Laughing Clowns" (written for the Saints in 1978) and "Winter's Way" – a song of Ed's written in 1975 which Laughing Clowns recorded on their last album, "Ghosts of An Ideal Wife".
Other notable mentions include the three-piece horn section and Ed mowing down hecklers with some amazing one-liners. The casual fans – those folk who seem to only prick up their ears when his guitar sound flicks over to the dirty channel – got a mighty fine garage band playing tribute to one of the most critically underwritten bands of the punk era - as did the rest of us.

8. THE SCIENTISTS LIVE AT THE TRIFFID, BRISBANE.
The best way to remain employed in the music industry these days is to offer as many different services as possible and in Kim Salmon's case, there's a wide array of bands to take out to tour for the paying punters. That includes the Scientists who recorded the "Weird Love" album; a great choice from many in Mr Salmon's trick bag.
By the second song, you begin to feel upset at yourself for putting up with at least 20 years of Scientists wannabe bands from all corners of the globe as Boris Sujdovic's bass drives at your sternum.
The audience are as thin as my hair and that of others as something was seemingly more pressing was on that night, namely the Cosmic Psychos. I'm not exactly sure how this could split an audience in two but that's Brisbane for you. It truly is little wonder how we get any touring bands to play here when this is how we treat the Scientists.
9. HARRY HOWARD & THE NDE LIVE AT THE CORNER HOTEL, RICHMOND
Those who have at least studied one semester of Australian Post-Punk History 101 will know and understand who this band are as individuals and how as a collective could quite possibly make some of the finest original music in this country, while making it all seem quite effortless.
As a tourist in Melbourne, I was slightly shocked by golf claps the audience gave when Mr Howard announced he was about to play the Boys Next Door song, "The Red Clock" – written and sung by his older brother Rowland. Not only did they perform it note-perfect with every tiny nuance intact, so did Simon Grounds guesting on tenor saxophone. Oh well – we two Brisbane folk appreciated it immensely and we await you here next year.
10. GLEN MATLOCK – LIVE AT THE PRINCE OF WALES, NUNDAH
He played bass and wrote songs in the Sex Pistols, formed the (absolutely mighty) Rich Kids and even played on one of Iggy's first absolutely shocking solo albums. With these factoids in mind, you'd expect quite an impressive show – or at least one from a very long and respected career in music.
I'm not sure if the biggest put-off was Matlock's bassist with his short beard and eyeliner or the PA system unnecessarily turned to stun in a room not geared for "punk" – especially when the headlining act himself is playing an acoustic guitar. Either way, I lasted three songs and one of them was a cowboy swing version of "God Save the Queen".
DONAT TAHIRAJ
CHIEF A&R EXECUTIVE
LATE CENTURY MODERN RECORDINGS
PHASE 4 RECORDS & CASSETTES
Tags: brisbane, ed kuepper, scientists, kim salmon, phase 4, the saints, the aints, donat tahiraj, lcmr