BARFLY TOP TEN: I-94 Bar writer Edwin Garland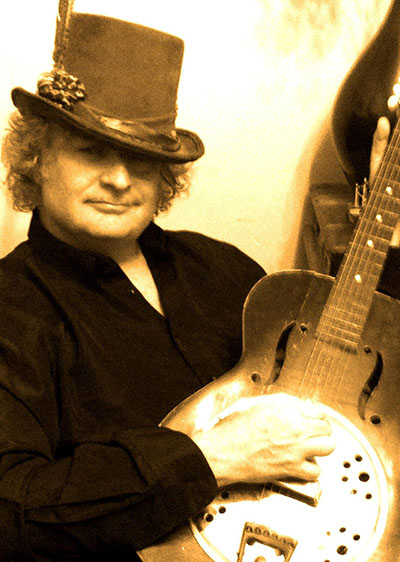 This year was returning to my childhood and gromit years - teenage times as well as inner-city music, alternative and garage rock, beer-soaked pubs and the alternative. Namely the Beatles, Midnight Oil and Patti Smith.

Patti Smith and Paul McCartney get the guernsey for the best gigs of the year. And for the same reasons. Both artists are incredible live and these final tours were a massive thank you to the fans…

1 Macca at Suncorp Brisbane

Sir Paul delivered on all fronts. With the most thoughtful visual show and a hit every minute over those three hours and ten minutes, it ranged from pure, four-on-the-floor garage rock with guitars sonically attacking to more mellow stuff.
From "I Want To Be Your Lover" which would have made the Stones sound like a get-together at a nursing home to "Helter Skelter", to the bombastic, "Live And Let Die" which inflamed the stadium, the cheesy "Mull of Kintyre" with a 25-piece pipe band, to the solo acoustic moments with "Blackbird", this was gold. Macca's voice, his insights, wit and humility, and his guitar playing were magnificent; 42 songs played. I won't forget it a hurry.

1 Patti Smith at the State Theatre and spoken word at Sydney Opera House

Another pair of gigs where Patti gave 300 percent. Patti engaged us with insights, stories and, as with Macca, showed a great deal of humility. The band, led by Lenny Kaye, at times still had the intensity of 1975 CBGBs Patti, yet with overtones of a grandmother and an earth mother.


We were served up at least one song from every album of her career with classic Patti claiming the crown as the Queen of her Generation for her lyrical genius combined with garage rock feel and punk rock ethics. The highlight at the State Theatre was an anarchic "Gloria". The spoken word, was of course, on another level and the audience was still left singing - all 800 people – "Because The Night". An amazing few days of classic Patti.

3 Taman Shud at the Great Northern, Byron Bay, NSW
Over the last 12 months I have seen the Shud six times - from tiny shows at the Mona Vale Surf Club to more established gigs at The Bridge. The Shud are and still remain one of greatest bands this country has produced …

Yes, we know, historically, they've charted a course going back to garage and surf music, starting in 1962. What distinguished them from the pack in 1967 was that they looked at the USA and changed tack, taking cues from the likes of Jefferson Airplane and the Grateful Dead.

Lindsay Bjerre is now in his mid '70s and rocks harder than most people half his age. The band, at its peak, leaves overseas acts like the Black Angels in the dust. Tim Gaze is the most underrated guitar player in Australia. Unlike many bands of their ilk that are living in the past, they are writing and recording all the time and are always on a creative wave, playing blistering two-hour sets. Expect a new album in second half of 2018

4. Midnight Oil. Both Sydney Domain gigs

The Oils announced their world tour and were bombarded by Facebook trolls from One Nation and those who are part of the Let's be Cool set. Like tradesmen, they spent three months, five days a week, re-learning 120 songs. They played 70 shows across the globe over six months.
That said, by the time they came home it was intense, powerful and sonically on fire, with the twin guitar attack by Mogine and Rotsey hitting me between the eyes. Yes, Garret was vocally at his best and less the preacher than usual. He let's the lyrics fly. What got me is that there were generations of fans, from hardcore inner city rock pigs to families from the suburbs; this band means so much to so many.

My personal amusement came from the Oils detractors. Anyone remember that character in Monty Python who would be in a frenzy, writing complaint letters after every skit with his eyes and veins bulging? Well, it was hilarious and I doubt that some insults written about The Oils bothered them so much.

5 HITS with Cable Ties at Marrickville Bowlo

HITS have been one of the best live bands for a while. In fact, for the last 10 years, they have been THE local band to follow, Two amazing, street-level albums and unpredictable live shows, from drunken messes to others full of polished delivery. They carry the flag for street-level rock 'n' roll bands everywhere and the new songs are strong – just as they scattered across the East Coast and their shows have become rarer.

The Bowlo was a beauty and they were tight with Tamara Dawn shining with her new bag of tricks and pedal board, and Evil Dick was, as always, the great showman. Cable Ties are also a first-class post-punk band, in the ilk of Wire and The Fall. And they're overflowing with aptitude.

6 The Aints at The Bald Faced Stag

This gig was packed. Like a show from another time, with 500 people crammed in and the only thing lacking being oxygen. We all knew this tour was going to be great. Sold-out signs at almost every venire and more shows being added. The Bully in Town, Mr Kuepper, was in great spirits, knowing he had the audience in hand. Taking us back and playing Saints songs from 1975 to 1978 - including many that were never recorded. The band was right and the brass section piped in well.

Highlights were the tracks off "Prehistoric Sounds" and the raw first album. The Aints gave a fresh dimension to the songs from the most important time period in Australian music. Awesome.

7. Chris Masuak and The Sydney City Wave Riders at the Factory Floor, Marrickville
Chris 
Masuak was joined by Tony Bambach and Stuart Wilson and the blistering three-piece was in savage form at the Factory Floor. It was a brilliant 90-minute set and Chris was on fire, returning to make a claim to his own history and put his stamp on Detroit and garage rock music.
We were served up Birdman tracks and Hitmen songs but much of the set was from his latest album. It was tight and a take no prisoners, Chris, like Tim Gaze, is one of our most underrated guitar players in the country . The "Brujita" album is melodic, high-energy and raw power pop with great riffs - and it was a "fuck you" to a few people.
8. Glen Matlock at the Lansdowne Hotel, Sydney

It was unexpected: The Sex Pistols was one blip in his long career and only at the end of the set did he feature a song or two, turning them into bar room chants. He also featured tracks he wrote with Iggy. Mostly, though, it was a salute to Glam Rock influences like Bolan, and the rockier side of Bowie, with a nod to '50s rock, hillbilly and roots music. The band was a bunch of local young guns and some of their rock star antics were annoying. That said, it was still a great night and well worth it.

9. "Descent into The Maelstrom"" The Radio Birdman Story
Last year we got the highly-hyped moviemaker making a movie at street-level. "Gimme Danger" was a high budget affair and was more MTV or Hillsong. We never got to see the most dangerous band in the world. They could have handed the project and its budget to Sydney's Jonathan Sequeira and a real Stooges movie would have been made.

"Descent into The Maelstrom" was exceptional filmmaking, capturing Radio Birdman, warts and all. The interviews highlighted the real characters. It told the real story and showed the blood on the floor. It was a fitting look at the band that at one time were outsiders. Directors and their labours of love is what real film making is about and Jonathan told a story.

10. Records

How The West Was Won – Peter Perrett

As good as anything by The Only Ones, with overtones of George Harrison, Musically and lyrically brilliant, and a 10-star effort
X-Citations – X

Steve Lucas has given us as a labour of love, tracking down and sequencing this album of gritty, brutal late '70s Sydney music.

Yesterdays - Suzie Stapleton (online single) 

An exceptional and original talent. Suzie's music rocks yet has so much soul and atmosphere.
Tags: saints, ed kuepper, sex pistols, hitmen, Hits, midnight, glen matlock, radio birdman, chris masuak, evil dick, descent into the maelstrom, aints, edwin garland, oil