A Thousand Endless Nights - Little Green Fairy (Closer Records)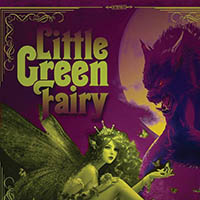 It's been five years such the last album and French garage-psychers Little Green Fairy are back with their strongest record to date. You may have never heard of this band but be assured that they hit the mark and worth you taking a risk on.
Little Green Fairy (it's a brand of absinthe) come from Sette on France's Mediterranean coast. That means they're a long way from almosty anywhere else in French terms, but it also positions them in a pictureseque stopover for touring bands on their way to Italy. They've won a reputation as the local support-of-choice.
They've shared stages with an impressive list. Try the Saints, Radio Birdman The Jim Jones Revue, the New Christs, Hoodoo Gurus, Real Kids, The Hydromatics, The Bellrays, Sonny Vincent and Chris Bailey, among others.
Generous swathes of fuzz and dashes of synth run through "A Thousand Endless Nights" and it sounds great from the bottom end, up. One look at the credits tell you why - expatriate Detroiter Jim Diamond produced, and he brings the focus that makes it a consistently great album.
There are nine tracks and "Too Far Gone" is the pick: Clarisse Bruyere's ominous bass-line and a surging drum feel signal Rauky Molliner's vocal in. Layers of guitar and keys slide in and out of the swelling mix. It's a killer song.
Rauky shows great vocal range on "Pyschosis Connexion" and his singing is a highlight throughout, as is lead guitarist Marco Cailaud's precise and economical playing. The songs are strong, too.
French psychobilly legend and occasional Fleshtones collaborator Tony Truant guests on guitar on "Trying To Get Back To You", a radio-friendly cover whose original version alludes me. It sounds pretty good in LGF's hands.
"A Thousand Endless Nights" is out on LP only on Closer Records in April. You'll find their website here. At a guess, digital downloads will make their way to the LGF Bandcamp.




1/2
Tags: little green fairy, france, closer records, sette, rauky molliner