Blue collar contrasts make for an enjoyable trip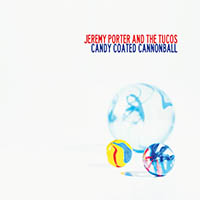 Candy Coated Cannonball – Jeremy Porter and the Tucos (GTG Records)
Detroit Rock was never just about the MC5 and the Stooges. Ask a Michigan native and they're just as likely to nominate Kid Rock or techno as defining. Don't even start anyone aged over 50 talking about Motown and the myriad of soul labels that sprang up in the '60s.
Jeremy Porter and the Tucos sound like none of the above. With origins in the city's punk underground, the trio's sound is a mix of power-pop, roots rock, alt-country and twangy blue collar garage. The title of their fourth album, "Candy Coated Cannonball", is a misnomer – the album's neither overwhelmingly sticky-sweet or explosive.
"Put You On Hold" is a super opener, a heady burst of gritty guitar, warm Hammond B3 and Porter's emphatic vocal. It's a rocking song and a juxtaposition, of sorts, that's apparent in a lyric like: "Time flies by when the conversation is slow."
The Tucos aren't content to sit in any one niche for very long. "The Things All Men Do" employs strings and trumpet for an evocative prologue before slipping into a dirty rock groove.
"Zipper Merge" is mid-paced pop, a touching "I'm on my way home" song with Porter's aching vocal and the B3 front-and-centre. The starkness is punctuated by Gabriel Doman's rim taps and the arrangement works so well.
"Downriver Song" switches the mood to Crazy Horse-style work boots country rock, not as lumbering and with lyrics about urban decay. Yes, it could be Detroit or it could be any number of Midwestern cities and towns. Take your pick.
"Dead Ringer" is country-flavoured pop, an ear-wig where some candy coating does come in, and "October Girls" a sparse blues with Porter and only his guitar.
What's evident after a few listens to this record is that Porter and The Tucos are a seasoned combo. They've toured the US and Canada extensively over their 10-plus years and shared Detroit stages with any number of out-of-town acts.
Recorded just before plague lockdown and produced with a lot of warmth, "Candy Coated Cannonball" won't blow you sideways but it's a solid effort.

1/2
Tags: detroit, powerpop, alt-country, jeremy porter, the tucos, candy coated cannonball