Hot Anglesea Night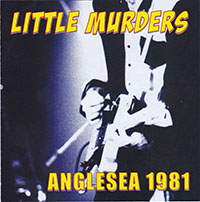 Anglesea 1981 - Little Murders (Off The Hip)
It's a snapshot. Not grainy - this is from a well balanced desk tape - but captured with no attempt to airbrush the minor imperfections. Which adds to the charm.
If you don't know Melbourne's mod-pop kings Little Murders your life is incomplete. They were two years into their stop-start career and "Anglesea 1981" captures one of the early line-ups on a New Year's Eve night in a crammed pub on the Victorian Surf Coast. There's a fair sprinkling of what you should recognise as classics, plus some spirited covers.
The performance is great but the songs more so. "Things Will Be Different" stands out as one of the best power pop tunes to spring from The Australian underground in the last 40 years, but Rob Griffiths doesn't write duds and there are other gems like "What's The Matter With Mary?", "She's The One" and "Take Me I'm Yours" that hold up equally well.
"She Let's Me Know" was the then-current single and its hooky melody line and alternately chiming and accenting guitars resonate brightly. The band's version of The Easybeats' "I'll Make You Happy" and the Clash's "Garageland" are good but "Stand By Me" is a step above, thanks in part to Alan Brooker's melodic, driving bass. It's a key thing, too, on "It's Over", an underrated B-side.
You can only assume there was a lot of energy flowing between band and crowd because the sound of the punters is absent, but that's by no means a detraction. Little Murders pick up momentum early and finish this gig with a full head of steam. There's the odd bum note and Rob Griffiths' character-laden, laddish vocal sometimes slips off-key but this is a live and loud show when pitch correction was a glimmer in a Milli Vanilli producer's eye.
The show's been circulating for years but the official CD version adds two more songs, "Killing Time" and "Wait Till You Make Up Your Mind", from another gig that are keepers.

Tags: mod, little murders, rob griffiths, anglesea 1981