Let's Go Wild! - Kurt Baker Combo (Wicked Cool)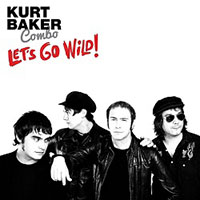 Two thoughts sprang to mind after one spin of "Let's Go Wild!" and both are for sharing: (1.) What a cracking album and; (2.) Let's all move to Spain.
American-born Kurt Baker has done just that, calling Madrid home for about a decade and fronting his own Kurt Baker Combo, based over on the other side of the country in Leon, Spain.
If the fact that "Let's Go Wild!" Is on the Wicked Cool label isn't a clue, the sticker on the cover with the ringing endorsement from Paul Collins should tell you that it's a winner in the power pop stakes. Baker has a great voice, his band powers and the songs are full of fuzzy hooks.
They ("they" being the mainstream) don't make albums like this any more, and Kurt Baker and his band could be one of Real Rock and Roll's best kept secrets. With four long-players and a compilation under their belts, it's hard to comprehend why the Combo aren't hoisting a World Championship belt above their heads.
Apparently, Kurt Baker Combo records kick off with a cover and "So Lonely" (originally by The Radio from Swden) makes an impression from the get-go. The grunt of the title track and the glam-pop touch of "Foolish Stuff" are classic guitar pop, but the cut that rounds off side one (on LP), "Don't Say I Didn't Warn Ya", is even better.
It's easy to hear why Kurt Baker and Paul Collins are members of the same mutual admiration society; if you track back through the former's discography, you'll find a 7" version of the latter's Nerves classic "Hanging On The Telephone".
"Yesterday Today" is the album's pop song. Baker has a penchant for borrowing from the Beach Bopys and the Beatles, but this is more of a pop strut that either could muster, with drummer Sam Malakian contributing some deft, overdubbed keyboard sounds. Malakian and bassist Juancho Lopez nail a classic Motown feel to anchor an instant classic.
"Gotta Move It" ups the glam quotient with a lyrical back-hander for politicians everywhere, while lead guitarist Jorge Colidan is all over "A Girl Like You" with his sharp licks and gritty tone. His and Baker's guitars on "WDYWFM" are the fuzziest things here. "Only Way To Life" is a sonic expriment that closes the record and ultimately doesn't come off, but there's plenty of other material to make up for that.

Run, don't walk, to the links below...



2/3
Tags: powerpop, paul collins, kurt baker, paul collins beat, kurt baker combo, wicked cool