Love Hypnotic - The Jim Mitchells (Off The Hip)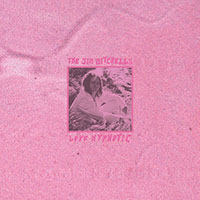 Don't judge a book by the cover, they said. They were right. The contents of "Love Hypnotic" leave its quirky artwork for dead.
Descriptor? Somebody said "acid washed garage goodness" and that'll do. Respect. That one can't be topped. There's an almost effortless drift to this Sydney band's sound that makes it click. Wafting melodies and dreamy vocals jostle with rustic guitars to create an alluring soundscape.
I know. You're dying to know if there is an actual Jim Mitchell and the answer's Yes. There's the man - on vocals and guitar - who's evidently the creative multi-instrumentalist, and his band. And they are a band. They even play live and tour - a lot by contemporary standards.
Much of the magic lies in the guitar interplay of that man and bandmate Richard Snowden. Their guitars twist, turn and wrap themselves around the songs in a way that's vaguely reminiscent of Lloyd and Verlaine, but nowhere near as tightly wound as Television. It's more a loose binding of guitars, with an occasional organ wash, wedded to a simple '60s sound.
Lazy reference to online sources reveals a band affinity with influences like The Oh Sees, POND and Ty Segall. If the Birdmen, Stooges and the MC5 were the way, the truth and the light for old Detroit rock fans, that's pretty much your Young Psych Band Holy Trinity right there. The JMs throw in old-timers like the Beatles and Sunnyboys as well. Which says great pop is timeless or their dads had nice record collections.
Sorry, that last bit was a cheap shot. Your dad doesn't have to have a bunch of dusty LPs to hand down musical wisdom - The Jim Mitchells might have heard about the Sunnyboys on Spotify - but it segues to a salient point. Most people into rock and roll hit the age of, say, 40 and turn off their ears to young bands.
It's almost understandable when they hear some of the insipid sounds emanated by most radio stations. Old farts? We know what we like and we like what we know. It's a strength and a weakness. Yeah, we've heard much of it before because rock and roll is about re-invention. And you can't spring for every "new" record that hits the racks. So dive online and do some hunting. If you scratch hard enough, you can find a new itch. A new kind of kick.
Which takes us back to "Love Hypnotic". Nine songs. "Ankle Deep" is the single, a blanket of harmonies, loping rhythms and clever guitars that'll take you somewhere else. Ditto "We're Up High", where the delicately nagging guitars drive a song that could be by the Go-Betweens.
"(Let Them All In)" - the brackets are the band's, not mine, and they seem found of 'em - is the moody album opener and it is a cracker. It emerges from a fog of street sounds on a wave of organ and swells majestically before falling away in a cloud of dissonance. It sounds like someone waking up face down on King Street in Newtown after a big night on mushrooms, the sun peeking through their hooded eyes before reality kicks in.
"Easy Love" floats on Dom Barret's keys and was last seen drifting over San Francisco's Golden Gate Park during the Summer of Love. "Got To Believe" sits on top of a sturdy guitar figure and sounds like The Frowning Clouds in their early days, before detouring into a weird middle passage. Come to think of it, a bill featuring these two bands would be a match made in garage-psych heaven.
"Magnetic" is set off by a chiming Rickenbacker and another ethereal Mitchell vocal. "(…She's Why") closes the record with a lilting guitar line and an even more unassuming vocal. In the context of the song, it works well - although it's less a formally structured "song" than a refrain.
From what I can hear online on Bandcamp, "Love Hypnotic" is a softer sound than The Jim Mitchells' earlier effort, "Planet Absorbed", where the guitars led from the front, so the odds are the band's tougher in the live context.
"Love Hypnotic" comes on LP (Third Eye Stimuli), CD (Off the Hip) and download. The Jim Mitchells' first EP is long sold out so take that as a sign. You wouldn't want to be the old fart - or the young one - that missed out, would ya?



1/2

Hear it and buy it
Tags: sydney, psychedlic, the jim mitchells, love hypnotic, third eye stimuli