Marching out to Aussie pop's beat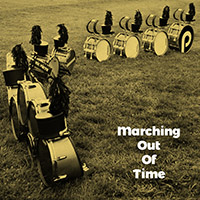 Marching Out of Time – Various Artists (Popboomerang)
With 115 releases to its credit, Melbourne's Popboomerang is as an amazing independent record label success story and a beacon for under-the-radar Australian pop. Presuming, of course, that success is measured in quality music and not sheep stations.
The labels been a long-time labour of love for owner Scott Thurling and that passion makes his decision to close it down, at least for now, all the more noteworthy. In his own words:
Being locked up can do funny things to you! I will admit to feeling a little frustrated on July 24, 2021, when I made the announcement to end Popboomerang Records. The news might have been a surprise to some, but it was one I had been contemplating for a while.
Covid-19 challenges to running a label were the tipping point after 18 months of cancelled live events and the gigantic increases in the price of international postage which was making exporting almost impossible.I had also recently established a new record label, Sound As Ever 90-99, focussing on Australian '90's indie music, which was taking off, and it felt impossible to do justice to both ventures at the same time.
So Popboomerang is going out with a bang, for now, with this double CD compilation, featuring 40 past and present artists.
"Marching Out Of Time" might be an ironic title (it's borrowed from a particularly fetching tune by one of the feature bands, The Killjoys) and it was written about the label. Proving that Pop really will Eat Itself.
Few of the bands on this compilation have a national profile, but each has a passionate fanbase close to its respective home. This collection is also the sound of community radio, without which it would not have been possible..
Popboomerang has a history of flagship compilations chockful of diverse and prime quality pop and "March…" is no exception. Some of it is demo material or unreleased – keeping it interesting for the fan-atics – and most of it stops short of saccharine. It's often the homespun element of the songs that makes much of the music endearing.
It runs the gamut from the measuredly baroque Tamas Wells ("A Reason Not To Stay") to the grittily effervescent Starky (a live "Teenage Kicks"), from the classic guitar pop of Little Murders ("Wait Till The Summer Comes") to the quirky, twee pop of Georgia Fields ("Snakes and Ladders").
You'll have your own "go to" acts. Mine are Little Murders who never fail to deliver and Danny McDonald whose "Northern Gaze" is a nicely resolved slice of guitar pop. Aerial Maps' sardonic "I'm So Bored With Westfield" is a quirky keeper with a hook that's sharper than a mall security cop.
"Shake Yer Popboomerang" by Her Majesty's Finest (featuring Kate Duncan) is a pretty formidable prefab pop ad for the label while Starky, The Wellingtons and Gigantic all bring crunchy guitars. The Steinbecks bring the obligatory GoBetweens cover.
Needless to say, if any of the above strikes a chord then you need to go here and buy a copy before they run out.

Tags: powerpop, little murders, danny mcdonald, scott thurling, popboomerang, aerial maps, marching out of time, starky