On Top - Straight Arrows (Rice Is Nice)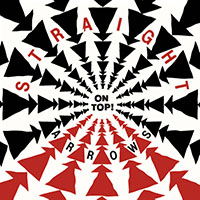 They're not its most prolific band but they're one of Sydney's best. The Straight Arrows seem like kids but have been around for nearly a decade and this is only their third long player. It's doubtful they care about keeping score and neither should you.
What you need to know is that "On Top" is uncomplicated, nicely raw and melodic. Two guitars, bass and drums and well-crafted, economical songs. Tight but loose. Cleaner-sounding on this record than before but still rough enough around the edges.
Owen Penglis writes good songs, alright. Cock an ear to the grinding yet light fuzzfest of "The One" or the buzzsaw burst of album opener "Nothing To Me". They're instantly catchy - like early Ratcat to cite a band that was around before these guys were born. Penglis and Al Grigg weave curtains of fuzz with their guitars and the energy level never sags.
Penglis' inspiration for the songs on "On Top" is said to be obscure private pressing LPs from the '60s and '70s, weird bubblegum 45s and Jamaican rocksteady singles. You can hear the bubblegum if not Prince Buster.
Most people call them a garage band but the tag isn't capable of accurately describing what Straight Arrows do. The distorto-punk "Headache" sounds like an ad for migraine treatments. "Deadweight" is like a stepped-down Neil Young with a harp awash with saliva and a delay pedal.
The spectral psychedelia of "Buried Again" (the record's longest cut at four plus minutes) is a sharp contrast to much of the other material, but that's also the beauty of Straight Arrows. They have no time for genres and labels. They sound like a band that's been to a musical garage sale and came away with a car boot full of ideas.
Although they're products of the warehouse scene, Straight Arrows are going to tour "On Top" in a semi-conventional way, and the album's coming out on labels all around the world. They're no strangers to overseas touring and this LP is going to get them a lot of attention. It's available on vinyl or as a download from October 23.



Tags: sydney, the straight path, rice is nice, on top, owen penglis