Past Masters Volume 1 - The Bils (self released)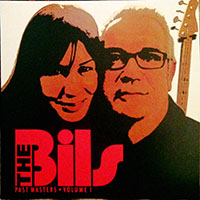 Going in with open ears and no expectations, this unassuming album is a revelation. It launched with little fanfare and was spoken about online but was unheard by these ears until after a copy was pressed into my hands backstage at a gig.
Somebody said it was country. A little. It's copped a flogging on the CD player. It's mostly warm and breezy blues-pop, from a husband and wife duo, one of whom you might know in their other guise.
The Bils are Bil and Michelle Bilson. They play everything between them (guitars, bass, keys and drums) and share vocals. Bil's other gig is drumming with reincarnated Australian power-pop legends the Sunnyboys. He also played with The (Sunnyboys-related) Sparklers and the gloriously acid punk Doctor Stone. Can't confess to knowing Michelle's musical pedigree but it doesn't much matter. The back story's not as important as what's going on at the front-of-house.
Recorded at home In south-eastern Queensland over five years, "Past Masters" is an easy record to like. The Bilson have warm and melodic voices; their delivery is sometimes understated, but that adds to the charm. You're a guest at the Bilson homestead so sit down, chill out and wrap yourself up in their songs.
So, you're thinking…Sonny and Cher. Paul and Linda McCartney. Did Barbara Bach ever make it onto a Ringo album? Think again. It's a creative partnership. A spousal product (not unlike a child) without the awkwardness that things like that can bring (no, not kids.) Both parties here are pulling their musical weight. Michelle sings most of the leads, plays bass on three tracks and knows her way around a fretboard. Bil's guitar playing is pretty damned fine (no drummer jokes, please), especially on the aching duet, "King of Fools".
Unaccustomed as he may be, Bil turns his talents to a lead vocal on "Halo" and delivers the goods on a fine song that recalls both the GoBetweens in its sound and the Sunnyboys in its structure. Being in the orbit of that Jeremy bloke has to have rubbed off on both Bils, but "Past Masters Volume 1" is nothing like a re-run of the more famous band's back catalogue.
Ten tunes and no clunkers. It's pop on the surface - although it's not all sweetness and light. Cock an ear to "Four By Two" if you like homicidal lyrics set to a paradoxically jaunty musical accompaniment. Revel in the wounded undercurrent of "Pick Me Up". There's a real depth to these songs and they're clearly derived and delivered from the heart.
As mentioned, the CD release has been without a lot of noise. The album will make its way to digital outlets in a week or so, if that's your thing. The disc was on sale at the recent run of Sunnyboys gigs, so if you want a physical product your best bet is to hit up Michelle on Facebook.




Tags: sunnyboys, bil bilson, michelle bilson, the bils, past masters volume 1