"Seance" summons oujia board wonderment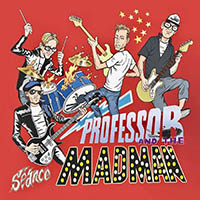 Seance - Professor and The Madman (Fullertone Records)
Old punks don't die. They just learn how to play their instruments and make concept albums. Stop right there. Don't run screaming from the room. Professor and The Madman's "Seance" is an album completely bereft of excess fat and self indulgence.
This trans-Atlantic band is American singer-guitarists Alfie Agnew (Adolescents, DI) and Sean Elliott (DI, Mind Over Four) joined by Brits Paul Gray (bass) and Rat Scabies, who respectively are current and former members of The Damned. While that's a punk pedigree worth bottline, "Seance" is one diverse pop trip.
But first, a digression: The reaction of an Australian punk luminary in 2018, after hearing The Damned's new album, "Evil Spirits", was abject horror. The record sounded nothing like the band in its early days. How dare they call themselves "punk".
Which is to miss the point completely. The Damned never stood still after Brian James left, pushing on in all sorts of directions. Goth, psychedelia and plain old fashioned rock and roll, with music hall overtones, have all received the Vanian-Sensible treatment. If they hadn't taken chances, as well as a few breaks, they wouldn't be around.
That punk's perplexed reaction to The Damned would probably be amplified 10-fold if he heard "Seance", which takes its lead from Brian Wilson, Pink Floyd and the Kinks rather than the Class of '76. The fourth in a series of records by Professor and The Madman pieced together via file sharing, it's as cohesive as it is ambitious.
"Seance" tells a story about a group of friends who say gather to say farewell to peers who have passed. The one-sheet helpfully fills some gaps about visits to purgatory and hell along the way. And of course there's a twist at the end.
The melodic and powerful opener "All The Lonely Souls" sets a course that doesn't let up. Cheap Trick rightfully gets name-checked in the list of influences and it's very apparent. It's been said that Paul Gray is the best bass player of the many that The Damned has had, and his surging, fluid lines are a wonder throughout the record.
The shared lead vocal by Elliott and Agnew is a strength rather than a detraction. Keyboards are as prominent as guitars and the pair aren't been afraid to embellish their sound with whatever it takes to fill out the tunes with horns, a piece of bamboo and a tea kettle allegedly getting a look in.
If the potent pop of the mid-album triple punch of "A Child's Eyes, "Time Machine" and "Man With Nothing To Lose" isn't enough to get Ray and Dave Davies rushing into a studio to make that Kinks reunion record a reality, there really is no hope in this COVID-fucked world.
While big production numbers like "Two Tickets To The Afterlife" sound Zeppelin-esque, the jaunty whimsy of "The Council of Purgatory" brings a light touch that balances the shade. Which sums up the record.

Tags: damned, rat scabies, paul gray, eddie and the hot rods, professor and the madman, seance, fullertone records