Split LP showcases top-shelf French garage rock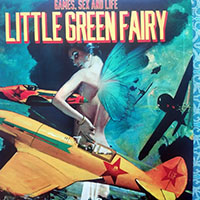 Games, Sex and Life – Little Green Fairy/Go To The Station – The Sonic Preachers (Zombies on Mars Records)
This split vinyl album pairing of French veterans Little Green Fairy and evangelistic garage rock countrymen Sonic Preachers is très cool
The concept of a split single or EP is common, but two bands sharing a side of an LP less so. Maybe it's some canny French move to save money in the pandemic, or a reflection of both bands coming from the picturesque port city of Sète, ("the Venice of the Languedoc") and sharing a guitarist? Who knows? Slap it on the turntable and stop worrying. The sound of both bands complements each other.
Little Green Fairy (it's an absinthe) has come a long way in their 20-plus years. Originally taking a derivative leaf from the rough and ready psych garage rock of The Vietnam Veterans, they've broadened their sound and it's not easily pigeon-holed. They remain the go-to band for support spots on the French Mediterannean coast, and have an impressive back five-album catalogue.
Chris Bailey of The Saints produced four of the five songs pn the LGF side and he's done a fine job, especially on the busier songs where voice, keys and guitars could have struggled for space in the soundscape.
The hooky "Nowhere To Go" shows a keen sense of dynamics amid all the fire and brimstone of fuzz-laden guitars. "Ray of Life" has a tension in the playing and its arrangement, with to sparring guitars from vocalist Rauky and his six-string specialist Shap.
"Just a Game" sits on top of an acoustic bed with a sweet Rauky vocal and some keening electric guitar adding colour. It's a contrast to the layered synth and buzzing fuzz of "Quick Fuck" that closes this side.
And there's The Cover, a powerful take on The Cure's "A Forest". At last count, there were nearly 40 covers of this song floating around the Internet. LGF's is true to the original but not as cold and with some extra raucousness.
And if you're into band family trees, that's Romano Pasquiini of Kent Steedman's old band Yage, Sonic Asaassin and The A10 on bass.
The Sonic Preachers have two guitars and they know how to use them. They're a little too fond of their phaser pedals, but they are an excellentt band. They write interesting songs and Djo is a strong vocalist.
The urgent "Last Friend" is a fine opener, spat out at a fast tempo with ragged backing vocals and some uncredited electric piano adding a bar room sound. "I Wanna Know" benefits from synthesised brass.
The churning "Go To The Station" lays on some guitar delay, and a chiming piano note for percussion. Shad and Laurent Richard take it out with some sharp guitar interplay. "Gun City" is a rote Birdman rocker rendered really well and "I Really Miss You" a sharp goodbye tune hung off some serious rifferama
The LGF tracks are available here digitally and you can cop The Sonic Preachers side here. If you're after the vinyl, hit up either band on Facebook or go to your EU online retailer of choice.

Tags: garage, little green fairy, cassette, chris bailey, the sonic preachers, go to the station , games sex and life , zombies on mars records