Stitched Up - Tokyo Beef (self released)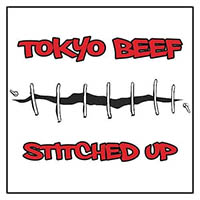 You'll know the sound if you had your head in the game in Sydney after Radio Birdman had left their lasting mark. Two guitars, stand-and-deliver vocals and a good dose of hard rockin' energy. Tokyo Beef are true to the genre.
Many of us couldn't get enough of this stuff back in the '80s but it's thin on the ground in today's Harbour City, which is now a place where the kids would rather get hyped up on hip hop or take a chance on trance. In other news, someone thought they heard some guitar on a mainstream Sydney radio station last week. We don't need pill testing as much as dill testing, especially when it relates to musical choices.
But it's not about the kids. Tokyo Beef are anything but. They're Dad Rock but they'd be too raw to jag a place on a Day On The Green bill - if they were famous as well as superannuated. Beer gardens are their natural habitat. Or small, grimy stages in dark pub rooms where popular interior decorating trends or good old OH&S concerns have done away with the sticky carpet of days gone by.
There are seven tracks on "Stitched Up" and that raises the eternal debate about it being an EP or a mini-album. Either way, it's on CD. Tokyo Beef aren't musical virtuosos but they aren't exactly on L-plates either. Guitarists Punk and Graeme (he's also on vocals) have some mighty fine chops to display. (Chops? Tokyo Beef. Geddit?)The Beef's engine room is pretty tight, too.
"The Way We Like It" is made-to-order pub rock transplanted to the southern end of the Queensland Gold Coast. It's the sort of thing you would have soaked up most weekend if you'd been a denizen of the long-lost Playroom, the premier rock and roll venue in that neck of the woods "Kamikaze Man" throws in an Asian guitar figure and name-drops Godzilla.
The title track's a keeper and "Gypsy Woman" recalls the Psychotic Turnbuckles, in parts. The live "Badseed" shows some fire and dynamics while "Midnight Train" rides a rocking feel.
Like its predecessors in the Tokyo back cataslogue (that search box at the top of the site will help you find them), "Stitched Up" is a barrel of fun. Get a copy here.

1/2
Tags: garage punk, tokyo beef, garage rock, stitched up