Subversions – UK Subs (Cleopatra)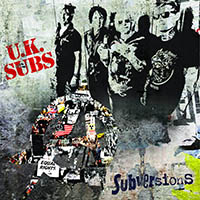 Revisionism is a wonderful thing. If you'd suggested listening to an album of cover songs by UK Subs as a useful way to spend some time 30 years ago, I'd have told you to check yourself into a psych ward.
I never "got" the UK Subs, despite their membership of the first wave of English punk…probably because I'd never bothered to try. There was just too much other stuff on the same block. Time marches on and you can't ignore band leader Charlie Harper's indefatigable nature (he's 73) or the 26 original studio albums (one for each letter of the alphabet) as testament to their durability.
"Subversion" is good. Better than good. It's capital 'F' for Fun, underlined by great playing and a collective "we don't give a fuck" attitude. Which should be what punk rock was - and is - all about. Fuck the fashion.
As you'd expect, UK Subs aren't who they used to be. Harper is the only original member (long-time guitarist Nicky Garratt is long gone) and he's joined by Alvin Gibbs - ex-Iggy Pop sideman and author of ace tour diary "Neighbourhood Threat" – someone called Jet on guitar and Jamie Oliver on drums (no, not that one.)
The song choices on "Subversions" signals that Charlie was an R 'n' B pub rocker before he was a punk. In UK Subs' hands, "Train Kept a Rollin'" is now running on nuclear power, not steam. They brutalise the Saints' "This Perfect Day" (and dull its edge to these ears) but "Suffragette City" gets its engine re-bored, shaking off its glam-boogie feel and growing a larger set of testicles.
None of us needed to hear another cover of "Kick Out The Jams", right? UK Subs actually make a good first of it. Rob Tyner was a hard act to follow but Harper sings the shit out of the song. I could do without their take on QOTSA's "Feel Good Hit of Summer" (although Gibbs' take no prisoners bass-lines rule) and the cover of Motorhead's "Bomber" pales against the original.
On the other hand, UK Subs' rocking version of "Get Out of Denver" is a reminder that Bob Seger once did rock quite righteously. Blues harp blasts through the mix like a headlight on the front of a freight train. While Charlie doesn't reach the same vocal heights as Steve Marriott on "I Don't Need No Doctor" that's no crime; he and his Subs scuzz things up enough to pull it off.
Covers albums can be pointless. This on's a blast.

3/4
Tags: iggy, mc5, cleopatra records, uk subs, subversions, alvin gibbs, charlie harper, bob seger