"Candy Coated Lies" brings us into an almost powerpop nirvana, with great woo-ooh backing vocals, it's catchy as, and perfectly follows on to "Storm The Gates" which is very much in the same vein, heaps of great hooks, and the whole band seems to be firing on all cylinders, brilliant!
The last track, "Trembling Heart" is the first video released from the band for this album. It's kinda reminiscent of the Screaming Tribesmen and Sunnyboys in places, check it out!
The tracks I've left out of this review are worthy too, believe me, it's, as the old cliché goes, all killer no filler, and those tracks do fill out the album perfectly.
So, the album as a whole is a great listen, a blend of some great rocking riffin' tracks and catchy heavy powerpop, with great musicianship from all three members in this version of the band - and of course Brendan Seqeuira's brilliant lead vocals and great song-writing talents.
It's available as a CD and digital download, with vinyl copies arriving soon, and available at their Bandcamp page.

- 5 beers all day, Barman!!!
I had a brief chat to songwriter/ vocalist/ guitarist Brendan Sequeira.
Firstly, congratulations on the new album, really enjoying it. I wanted to ask you first something that I've always wondered. You've got a track on here caller "Storm the Gates" the name of your last album of course, because every previous album has had a track with the title of the previous album on it, is that a bit of fun for you and the punters?
BS: Yeah, so that quirky thing with the song title taken from the previous album title was just a bit of a laugh (and maybe I was trying to see if people were paying attention, LOL). I just kinda kept doing it as a bit of a signature touch I guess. But also, I've always felt like my albums merge into one another and there is a lot of overlap even with the lyrics and certain expressions.
Michael Carpenter has produced all your albums, and played a bit on them all, but the last two he's taken over drum duties, but this time around he's added a lot more lead guitar and bass to the album, and I've heard that it was recorded with a lot more distance involved this time as well, how was the recording process for you on this
BS: Yes that's all true, Michael Carpenter is an absolute legend and he's been a huge inspiration from the very first album. In fact, he tells me The Prehistorics were the first band to record in his studio, nearly 20 years ago when we started. This latest record "Racket Du Jour" had to be made a little differently because we were in the middle of a lockdown (or rolling lockdowns) and I had also moved interstate.
Luckily, before I moved I bought a reasonable digital home recorder. I had to come to grips with using it and the technology, something I've always dreaded. But the lockdown forced me to bite the bullet so I got my head around the technical stuff and layered all the tracks myself: drum machine, bass, guitar, vocals, everything except most of the lead guitar, and sent all the digital files to Michael to then sync up and re-record with real drums, bass and guitar.
It was amazing and after all the track beds were laid down, I flew down to Sydney to lay down all my tracks in the studio. Thomas Aguilar who toured with the band in Europe in 2019 also stepped in after I completed all the demos, to do some tasty lead and harmonies, on about half the album. So it was a great combination.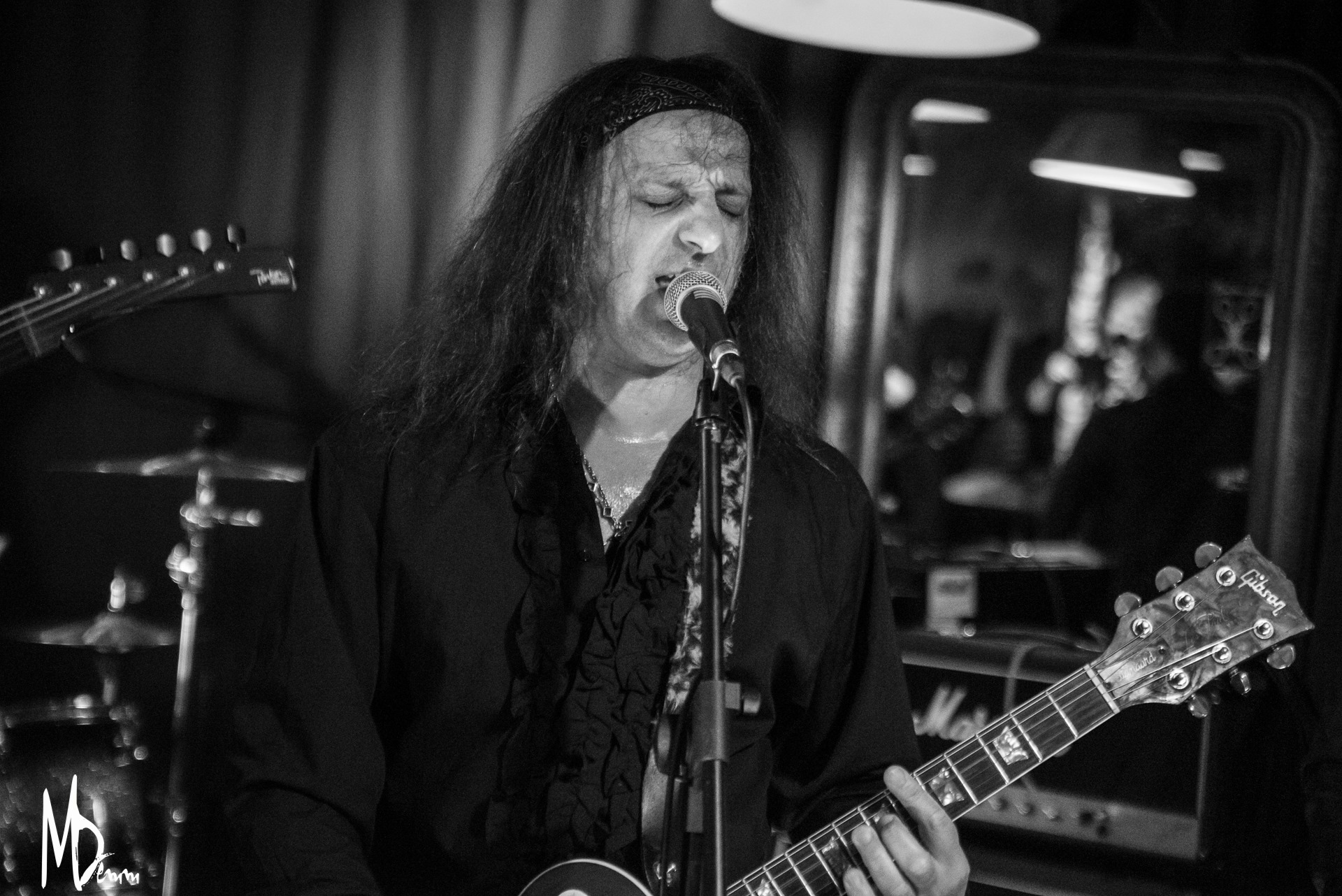 Marie D'Emm photo.
I was about to ask you how Thomas Aguilar was involved in the recording, and by the way the sound is fantastic, you wouldn't think that a lot of it was done via so much distance and unconventional means
BS: Thomas was fantastic during the whole recording process because he was able to put the icing on the cake after Michael and I had completed our stuff. He walked into the studio like a pro and just tore it up with some blistering guitar. I was actually surprised that this record sounded so cohesive given the way we constructed it, across the miles and without a single rehearsal together.
I've just gotta say that this band has always been a family affair. Your brother Jonathan, played bass in the band on and off and did a lot of your previous film clips, but of course he's probably better known for the Radio Birdman doco now. Now, your wife Nathalie has contributed, she painted the image on the front cover, she's a great artist and you must be very happy to have some input from her on this release. Has she helped you out with previous releases as well?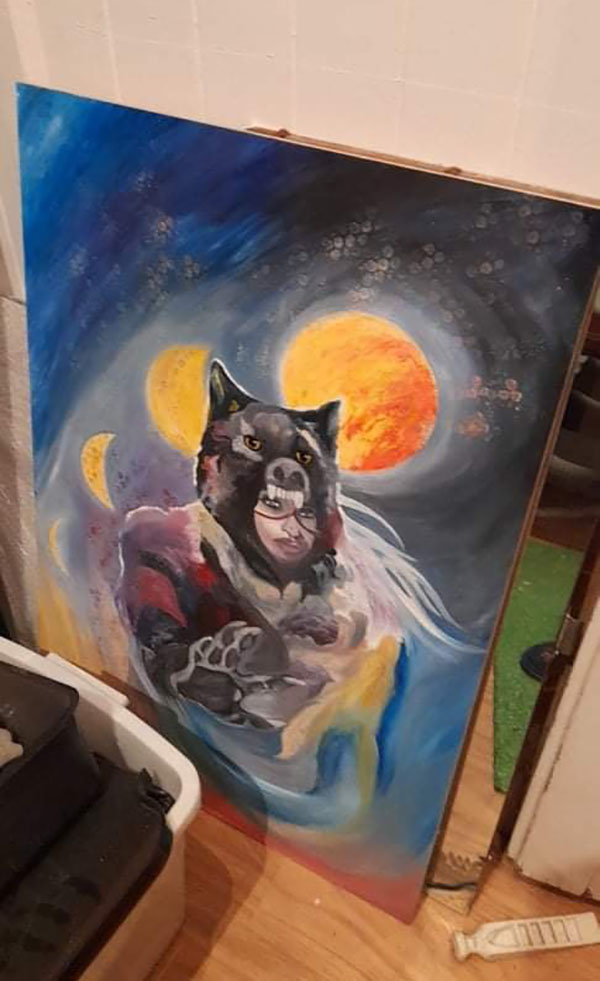 BS: Yeah, I been really lucky as different family members have helped out a lot. My brother Jonathan played on three of our albums and can shred pretty damned well on the bass. Nath has helped heaps too, from the "Storm The Gates" album as she is a great artist and has helped translate my concepts into first class artworks. My other brother Mark has also helped in a big way, manufacturing all our records through his company.
Cheers for the chat, just one more question, and of course it's gonna be COVID-related. You have a fan base in Europe and toured the last album successfully there. Can your European fans buy the album, and hope to see you soon?
BS: So...the big news is The Prehistorics are planning on touring Europe again in September 2022, as long as all the floodgates open and we can travel. We absolutely love it over there because that is probably our biggest fanbase, particularly in France.
The album is on sale now in CD and digital formats, on our Bandcamp site or via the links on our website. A special coloured vinyl edition is coming in a few weeks so we will have that for sale very soon.
This COVID situation will pass too - nothing lasts forever. I see it as a big wake-up call as well, to value the important things on life and to remind us to "go for it" and live life to the full (it ain't no rehearsal). I just can't get on a plane quick enough, to play gigs in Australia and beyond! I live for this stuff and they will have to carry me out in a pine box before I quit playing rock 'n roll!