Tokyo - Penny Ikinger (Off The Hip)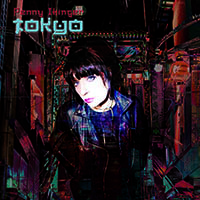 It's a long time between Penny Ikinger records but the results are usually worth the wait. "Tokyo" follows "Penelope" (2010) and "Electra" (2003) and is as evocative as ever but with a slightly rockier disposition.
"Tokyo" was recorded with a batch of top-notch Japanese psychedelic musicians, with heavy input from Radio Birdman's Deniz Tek. The latter's influence is evident - not just in some flammable splashes of lead guitar but also in the odd lyric. That Four Winds Bar sure has done some mileage since being name-dropped by Blue Oyster Cult all those years ago...
Even so, "Tokyo" is very much a Penny Ikinger record. Gone are the days where she needed to be referenced as "a past member of Wet Taxis" or as "Nico defrosted". As clever as that last marketing line was, Nico ultimately shut out the world. Penny embraces its musical possibilities and has her own distinctive voice.
"Tokyo" is instantly recognisable as a Penny Ikinger record; it contains no shortage of Penny Moments. They're in the up-vibe and scything guitar of lead single "Gin No Suzu", the rumble and fire of "Tsunami" and the quirky, playful vocal undercurrent in "Myth".
Penny's accomplished singing, unconventional guitar playing, folkish song structure and willingness to take risks make this a great album.
The restrained "Tokyo City" evokes a yearning for a place that's left a deep impression, building on spoken-sung words and climbing to a sonic hailstorm. "Art In Paris" is another travelogue that switches from a sunny groove to an elegiac bridge that slides into a shallow pool of funk.
"Ride On Cowboy" sits up on its haunches atop a slithering, sexy groove before delivering its hook.
"Southern Man" owes less to Neil Young than it does to Rowland S. Howard. "Gold Rush" is blues-rock with harmonica and a Spaghetti Western male chorus behind it. "Hurricane" - are these Neil Young references ironic? - is a smouldering, psychedelic brooder that could have been on Sonic Youth's "Daydream Nation".
"Get Away Car" winds up "Tokyo" on another rock note; tightly-bound Velvets guitars take off their gloves and get stuck into a bare-knuckle first-fight. Simple and very effective.
Hopefully the wait won't be long for a follow-up but it will be a long time before "Tokyo" wears out its welcome.

1/2
Tags: penny ikinger, japanese, wet taxis, radio birdman, deniz tek, tokyo