Who Is Innocent? A Singles Collection 1983-87 - Fixed Up (Nineteen Something)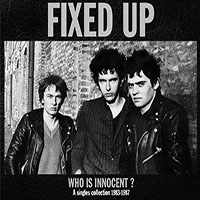 Their legacy was just two LPs and a stack of singles but Fixed Up's punky and soulful garage rock touched people in their native France and all the way around to the other side of the world in Australia.
A lot's been made about the Sydney-Detroit connection, mainly through Radio Birdman and its now fading local musical legacy. The irrefutable fact was that Birdman and its associated influences ruled the Sydney roost in the early 1980s. As true as that was, you can make a strong case for the affinity between Australia and France being almost as important, once the Sydney underground scene started to diversify and expand.
The Franco-Ausstralian link was made when John Needham, chief of seminal Sydney label Citadel Records, started dealing with the likes of Sonics Records in France. Suddenly, there was a pipeline for Australian bands to have their music heard on the Continent - meaning outside the UK where the perpetually jaded music press briefly adopted Aussie arty pop, junkie rock and the swamp sound for a time.
For the leather-clad Sydney bands, the welcome was much warmer in France, Italy and Germany. Inroads made by their singles, a vanguard of Died Pretty, the Screaming Tribesmen and the New Christs sold albums in good numbers and toured through the '80s and beyond.
It was far from a reciprocal arrangement, but one of the few French bands that did make it to Australia was Fixed Up. This trio from the port city of Le Havre - singer-guitarist Francois Lebas, bassist Mephisto and Sylvain Picot on drums - recorded their 1987 "Vital Hours" album with Jim Dickson and Rob Younger in Sydney, and gigged around town.
There was a distinct cultural cringe in Australia back then (some would say there still is.) Having a French band in our midst made them an exotic novelty. But there was no mistaking the garage-punk meets R&B power in their music, beefed up as it was on "Vital Hours" by an Australian brass section of Kathy Wemyss, Dianne Spence and Wayne Freer.
You'd do well to chase down a copy of that one, and the less focussed 1984 self-titled debut produced by Pink Fairies guitarist Larry Wallis. If you like your musical statements made at 45rpm, pick up a copy of the "One Night Stand" 45 on Citadel or Sonics. They're on eBay all the time. Or you could just snag this compilation from French label Nineteen Something.
"Who is Innocent?" compiles all 16 of Fixed Up's singles and EP tracks in one convenient, re-mastered package. There's something very bracing about hearing all those songs back-to-back. Arranged chronologically, you can hear Fixed Up start true to their garage rock roots and move into soul territory as the years go by.
The title track is a gem, Picot's drumming is dynamite on this and many others. Wilson Pickett's "Biff Bang Pow" takes on a muscular edge in Fixed Up's hands. Two live tracks, "40 Days 40 Nights" and "Things Get Better" (from a split with The Nomads), translate well to record.
"Im Sad To See You Go" sounds like a 1964 Stones track with Ian Stewart adding boogie boogie keys. "Take a Look At Me!" Lives up to its title with its brash R&B swagger. They're two of four '83 tracks released from a London recording session and released on Sonics.
"You Can Count Me in" is pure Motown sass with a propulsive edge, Mephisto's bass doing the business as a withering sax solo kicks in. This was a single on Sonics Records and the galloping flip, "What I'm Telling You", is almost as great, picking up pace as it heads to the fade-out.
"One Night Stand" is the monster it always was with Lebas's impassioned vocal conveying a sense of desperation. What French girl wouldn't cave in to these advances?
The collection is on CD with extensive liner notes. I'm assuming they're good because Alain Feydri wrote them but they're in French, and I'm a mono-lingual moron.
Lebas, by the way, is like a French Mick Medew in terms of his durability. He went on to Ambulances and another formidable band, Backsliders (not the Australian one), and still plays with his own Asphalt Tuaregs.
I got a feeling (see what I did just there?) this collection won't be around for long, especially once the band's Aussie fans get wind of it. Hit up your usual outlet if in Europe. Australians should contact the Nineteen Something label direct. You can hear four tracks on their Bandcamp.



1/3
Tags: garage, soul, french, new christs, died pretty, screaming tribesmen, fixed up, asphalt tuaregs, francois lebas, nineteen something, sonics records, mephisto, sylvain picot