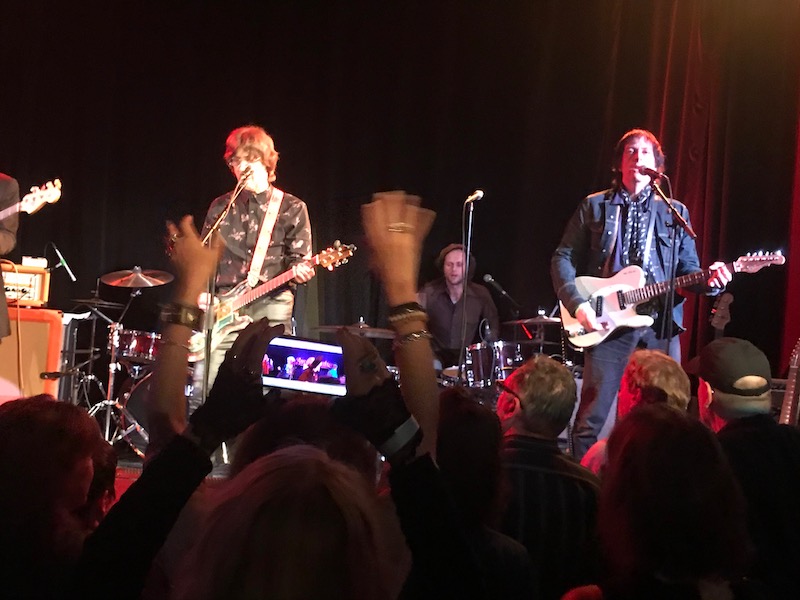 Cyril Jordan leads the Flamin' Groovies through their mini-set.
Over his career, Roy compiled an impressive catalog of recordings with the Groovies and solo. Beginning with a self released EP and three groundbreaking albums with the Flamin' Groovies, he mad an indelible mark. You can add three live albums to that list.
His solo career was launched in 1978 with the "Artistic As Hell" EP followed by seven albums with the Phantom Movers and under his own name. In 1992 a group of Seattle musicians invited Roy to play some shows. The Northwest Movers, later rechristened The Long Shots, recorded four albums. You had to live in the Pacific Northwest or Spain to see them live.
One more album was recorded with the Spanish band Señor No. An attempt to record a track for a tribute comp and a live album in 2015 with the Long Shots was sunk by technical gremlins. Shame as that last Long Shots gig was a scorcher.
The Groovies catalog has stayed in print over the years, with a series of authorized expanded reissues. The Phantom Movers catalog has long been out of print. The Raven compilation "A Hundred Miles An Hour 1978-1989" does a very good job of gathering the best of those years. The Long Shots albums are now out-of-print with the exception of "Shake It Or Leave It". A proper anthology of that band is being discussed.
Friday night's show would draw from this deep discography. The format for the show was a musical review. The Phantom Movers were Larry Levy, Maurice Tani John Moreman, Thomas Heyman and Joshua Raoul Brody, with original Mover James Ferrell joining the band on several numbers. A long list of guest singers appeared through out the night. The Groovies and the Long Shots were the exception and played stand alone sets.
The evening opened with a short documentary featuring interviews with Roy and others. Comedian Tom Kenny was the MC for the night and one of the guest singers. He kept the show moving along and the audience focused on the music of Roy Loney.
The show opened with a solo violin performance of Ave Maria by Roy's grand-niece Kira Bayer. A beautiful start to the evening.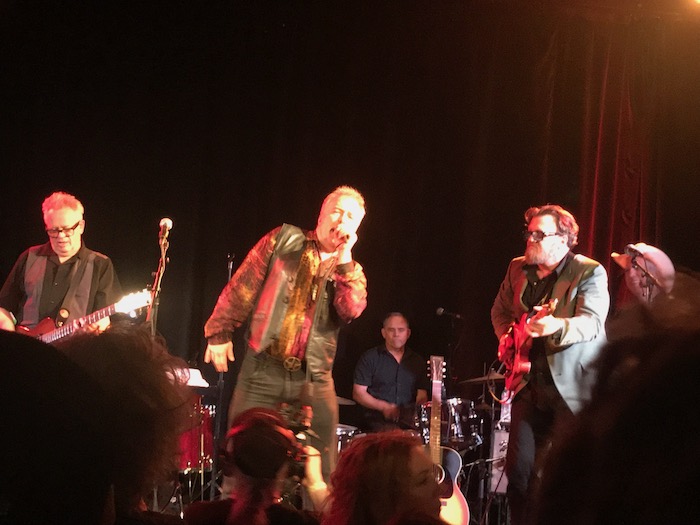 Jello joins the Phantom Movers.
The Phantom Movers kicked off the show in rocking style with "Don't Believe Those Lies". They were joined by Jello Biafra for a few numbers. Jello was a good friend and his love of Roy's music was evident in his performance. He was the first of many who tried to capture Roy's onstage persona. His set included "Evil Hearted Ada" and the classic "Love Is A Spider".
A side note: Mark Arm also performed "Love Is A Spider" with The Long Shots a couple of times in Seattle. Hardly Roy's most rocking song, but a good example of his clever word play.
I believe it was Chuck Prophet and Stephanie Finch up next, performing "Neet Petite" and "People People". Their slowed-down arrangement of "Neet Petite" was one of the highlights on the night. Chuck told the story of how he would see Roy walking up his street on his way to Jack's Record Cellar and the surprise when he recognized who it was.
OK, after this point the details might be a little vague. As best I can piece things together, Peter Case was up next. Ex-Nerves, ex-Plimouls. I didn't recognize him with his bearded look. I also have no memory of what he played. Whatever it was, he played very well.
Also appearing in the first set were Rick Estrin, Paul Koph and probably Tom Kenny. Paul Koph was another highlight of the night. His rendition of "Born To Be Your Fool" was heartfelt. Like everyone else, his chance to pay tribute was an important moment. Paul is singer for the current Seeds line up and his own band Strangers in A Strange Land have just completed an album with Shel Talmy producing. Paul was also a member of The Magic Christians with Cyril Jordan.
The Flamin' Groovies were the finale of the first set. The Groovies have come and gone and come back several times since I last saw them in 1979. The current line up Cyril Jordan, Chris von Sneidern, Tony Sales and Atom Ellis played a solid four-song set. The addition of CVS, now on on guitar gave the band a very solid frontline. Flawless vocals and the perfect guitar foil for Cyril.
Cyril was in fine form and spoke respectful words about his former bandmate. Cyril introduced "Down The Road Apiece" as one of the first songs the Groovies learned. "Whiskey Woman" was a song the Groovies never played live until this night. Brilliant choice.
Maybe not so brilliant was the inclusion of "Shake Some Action", which was not from the Roy era of the Groovies. It was played so well and lifted the audience, so much that tactical error could be forgiven. The set finished up with "Slow Death", Roy's last writing contribution to the Groovies. Cyril told the story of how they wrote it while in Dearborn, Michigan. According to Jordan, Roy wrote the words in just a few minutes. Again the band played a storming version.
This line-up may be a little more workman-like rock, lacking the swing and bounce of either the Danny Mihm or Dave Wright periods. They were tight, never faltering. Kaz (Mrs Sanchez) can now say she saw the Flamin' Groovies.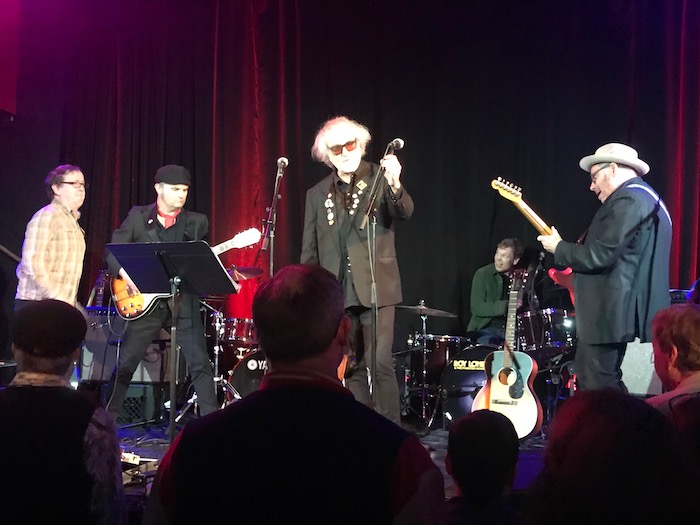 The Long Shots.
After a short intermission the second set started with a blistering set from The Long Shots. This slightly modified line up was the only other self-contained band of the night. Guitarist John Ramberg was sitting in for founding member Joey Klein. Scott McCaughey handled lead vocals very well. Graham Black, the Sangster brothers and Scott Sutherland rounded out the band.
"Been Around Too Long" and "See Jane Run" were the only nod to the Long Shots' catalog. Peter Buck joined them on third guitar for the next two songs. "Dr Boogie" was a regular in the Long Shots set and again here. Despite only having a few minutes to rehearse, the Long Shots stood their ground, playing with a magical touch.
In the need for full disclosure, my label, Career Records released two Long Shots albums. It's quite possible I have seen them more than any other band. My connection with Roy, and Scott McCaughey, goes back to 1972 when I met them at Discount Records in San Jose, CA. Their paths would not cross for another 20 years.
Georgia and Ira from Yo La Tengo took the stage next. Scott McCaughey came back up to play piano on versions of "City Lights" and "Have You Seen My Baby". Georgia played drums on the first song, then moved up front to sing. "City Lights" is a fave Groovies song. It was great to hear it live. I think I had asked Roy to add it to his set with the Long Shots, but to no avail.
I don't think I've forgotten anyone else? Jeanine Richardson is on the list, but I'm struggling to remember what she played. The Phantom Movers returned for another short set before being joined by local singer Jason "Harold Ray" Morgan. Jason came out full force and with most dramatic performance of the night. What did he play? I don't know, I just know it was riveting.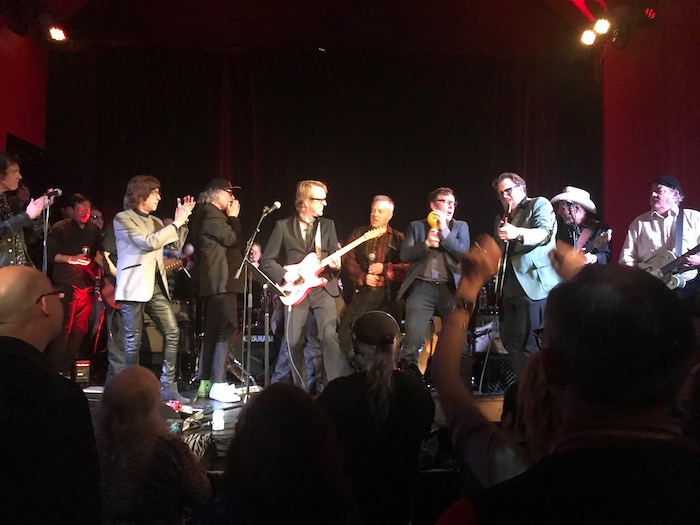 The finale. Spot the star.
Without missing a beat the stage filled with most all the performers for a brutal version of "Teenage Head". Lead vocals were passed around. It was as if 25 or so people were raising their voices in final tribute to a man who was best friends to everyone he met.
It was strange to hear these songs without Roy singing them. More than a few people mentioned that the one thing missing this night was our friend Roy Loney.