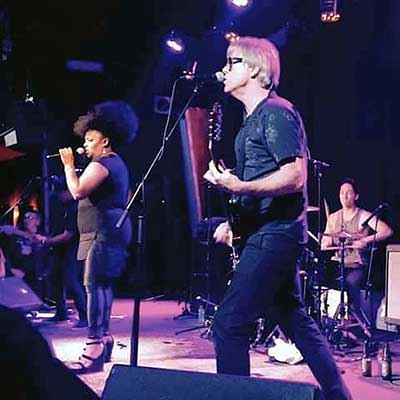 The Gov, Adelaide
Friday, August 14, 2015
Pics this page by Rob Szkolik
Friendly, yeah. When did you last see an overseas act so obviously without airs and graces that they namecheck the support bands (twice, in this case) in a context which leaves no-one in any doubt that the support bands are as much a part of The BellRaysian family as the main band themselves? Never, that's when. In a way, The BellRays reminded me of a much more approachable Rolling Stones, back when the songs and having a blast onstage mattered, and their fame didn't make them so damn venal. Except, of course, instead of Mick … they have Lisa Kekaula.
Now, Adelaide has a sadly deserved reputation as a city of bums who simply don't turn out to see bands. So overseas acts simply don't come here. This has been going on for decades, most recently we missed out on Jon Spencer Blues Explosion (dammit), Retrovirus (sigh) and The Fall (fuckit). And honestly, who could blame The BellRays for not turning up to Adelaide again, when their last gig here boasted an audience of about 30? I spoke to about five people who saw this gig; the band apparently saw the small crowd, grinned, shrugged and kicked out the jams.
But here they are again, and somehow The Gov is almost full. Word has, apparently, gotten around. The BellRays tell us they love us. They demonstrate this. They put out, they work, but it looks so easy, the guitarist Bob Vennum and bassist Justin Andres bouncing around like 16 year-olds with their first guitar. They tell us it's Friday night and we should be acting like it's Friday night. Sadelaide suddenly started grinning.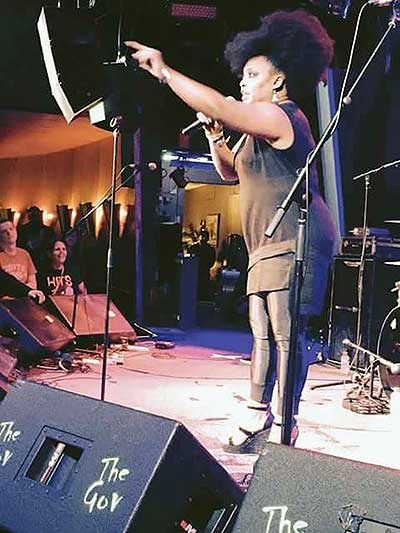 Their style is kinda a modern soul r'n'b garage with a singer with a great range who knows how to use it, along with a whole passel of crowd-teasing and crowd-teasing. You notice some of the influences, sure, but they're more like delighted homage, such as Kekaula's occasional use of the James Brown line "Get on up"; without Brown's next line, The BellRays are treating us to an entirely different, and incredibly positive, meaning.
The whole gig people were increasingly happy, big smiles, hugs, kisses, people dancing (no daft slamming, just … people having fun). Lisa has the voice of an Eartha, more balls than any character Schwarzenegger was ever supposed to be, and she is one determined lady. She stalks into the crowd twice, walking right through us, addressing us personally as she's singing. She's up on a table, singing like Christmas.
The drummer is Stefan Litrownik, a muscular youngster who looks like he's been plucked out of Alice Cooper's band (yes, he's really that good) and the guitarist and bassist dance while they're playing, on and on and on. The band aren't relentless like some hardcore outfit, they're just pounding, rocking, dancing, singing … my God you feel alive at a BellRays gig. Vennum has a ripping line in well-chosen skronky garage racket - but he doesn't overuse it, knows how and where these sounds are best placed. Andres moves and plays like he wants to be in the audience as well as the band.
Some bands are sexy, some are sexual, some are kinda like a really rough fuck … The BellRays are unconsciously sexy, funny, friendly and are a bit like a wonderful all-night tumble, 'all shoulders, hips and ankles', as Dave Graney once put it. If you need more context, Lisa Kekaula's appearance on James Williamson's "Re-Licked" CD was simply outstanding.
The BellRays are the best fun you'll have this or possibly any year. Go out and see them. Better yet, you cashed-up oldies, bring them back. Just for your birthday party. Then book 'em at Rod Laver Arena. Get their CDs, get their merch, and get them back here.