Oh yes, I was so chuffed to be asked to do this review that I spent a while at home trying to find something pocket sized to take along with me in order to play Ace Reporter.
This is what I ended up with. Very rock and roll.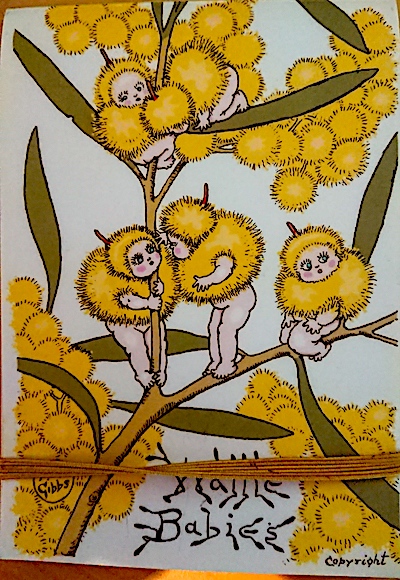 I took some kind of copious notes – in the dark - which combined with the odd beverage or three rendered them about as intelligible as a One Nation branch meeting. So for this review I'm relying on a dodgy memory, press releases, and half-tanked scribble – hmm this is getting more One Nation all the time.
Tonight is the Sydney launch of "Shake Yer Popboomerang 3". It's the third in a series of compilation albums released on Melbourne's Popboomerang Records, and a celebration of the finest melodic pop, jangle, folk and rock music in the Australian scene. Since launching in 2002,
The Popboomerang label has put out more than 80 releases (presumably including Vols 1 and 2!) including Australian indie household names such as Even, Screamfeeder, Nic Dalton, and from tonight's bill Halfway and Ups and Downs. It's a 37-track compilation full of new musical discoveries and a few old favourites.
Successful shows in Melbourne and Brisbane preceded tonight's Marrickville Bowlo affair, and it's pleasing to see a very healthy crowd in early enough to catch opening act The Aerial Maps.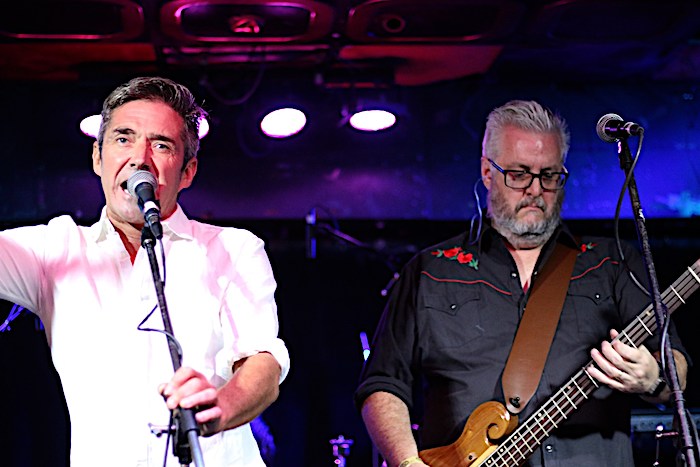 Aerial Maps.
The Aerial Maps have been through a few lineups in their 12-year career and are probably best known for the songs of frontman Adam Gibson. Words like "poet", "balladeer", and "wordsmith" sometimes get thrown around a bit too generously in reviews, but in his case they barely scratch the surface. When it comes to documenting Australian life, experiences, and emotions he is in the very upper echelon of songwriting, although I will say tonight suffered a little in that his laconic oft-spoken word vocals didn't always cut through.
The Maps started out with some slow and considered low key storytelling, but if that sounds a bit dull believe me it was anything but. Among my scribbles in the dark are words like "aching", "melodic", and "elegiac" (I love that word). There's a beautiful sense of clear-eyed nostalgia – yearning for better times past while realising you can't go back and you have to move forward.
The tempo picks up throughout the set, a song with the refrain "cold and wasted" came home with a big finish, and there are plenty of pop gems when the choruses kick in. The rhythm section lay down the bedrock over which sliding, shimmering guitars twist and turn.
Brothers Adam and Simon Gibson and the top-quality pairing of Sydney musical stalwarts Peter Fenton and Mark Hyland bring their A game tonight. But the band's secret weapon, whose jangling guitar and gorgeous harmony vocals take things to the next level, is Alannah Russack, formerly of the much-beloved Hummingbirds and shortly to release her solo debut album. She's been playing live a lot in recent times and it shows. A great performance all round and a band I will be seeing more of.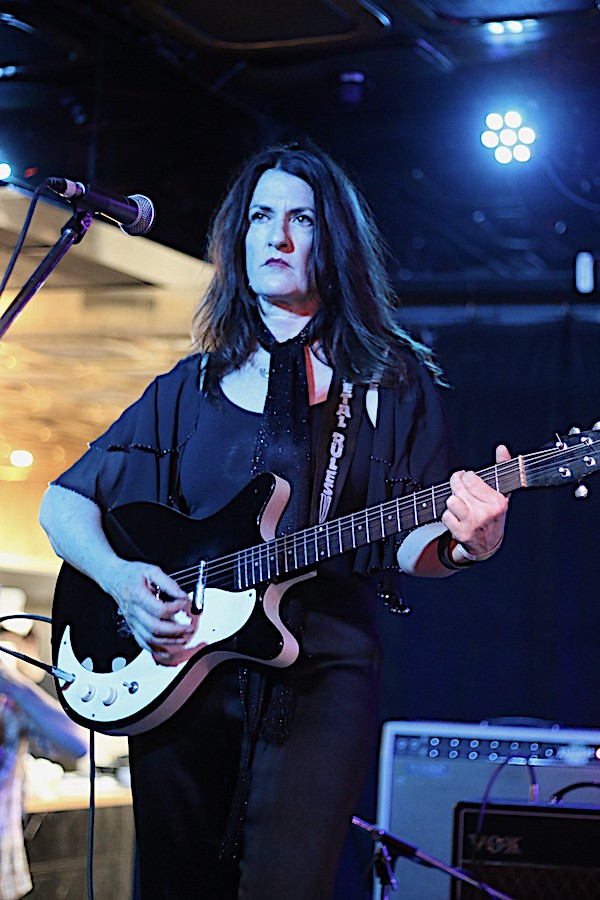 Allanah Russack.
Next to the stage are Queenslanders Halfway, an award-winning act with a two-decade career and plenty of great songs to burn. A tight and vibrant rhythm section show the benefits of experience mixed with enthusiasm – the bass is an absolute highlight throughout a set of driving pop, solid rock, and ethereal jangle.
Turning to my scribbled comments I observed that they were very good at "attracting men of a certain vintage" (ahem) and that you know you're getting old when the band members are wearing glasses. And you know what? It made not a lick of difference to a thoroughly enjoyable set of really heartfelt, soulful, lush and cinematic guitar driven tunes. Former Go-Betweens bassist John Willsteed on the six -tring is a standout.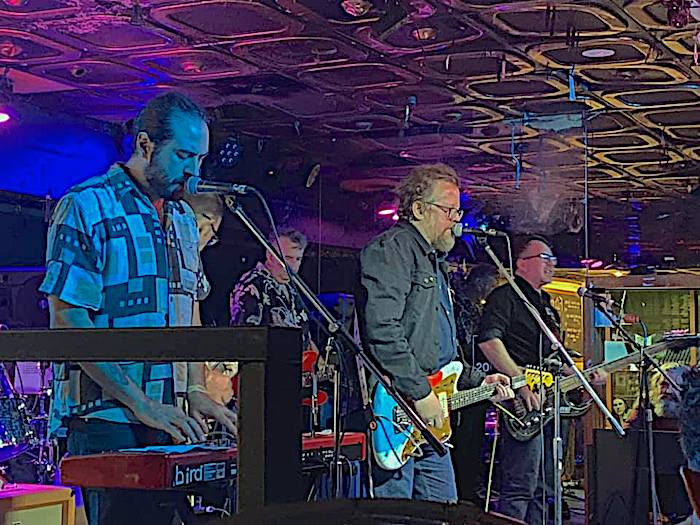 Halfway at The Bowlo. Hey - they're not as old as the Copperart ceiling!
Again, no idea about song titles, but there's a cheery song about park drinking and spending time in bars, which I suspect the entire audience relate to, and their last number is an absolute cracker. Sorry Halfway for a brief review which really doesn't do you justice, but your song "Square Ruled Pages" on tonight's album does and I encourage people to listen and to buy. I'll definitely see them again and I'm keen to unearth their back catalogue.
Comparisons to Wilco and classic REM are entirely justified but they put their own slant on that roots rock lush jangle. They hit you in the sternum with perfect guitars over a faultless rhythm section.
What is there to say about headliners Ups and Downs? Anybody reading this is surely going to be familiar with the Brisbane-raised veterans' stellar career. Forming in 1983 they released a string of singles and EPs, showcasing orchestrated twin lead guitars and the soaring harmonies of brothers Greg and Darren Atkinson. A 1988 debut album followed before they took an extended hiatus, the Atkinson brothers forming the acclaimed Big Heavy Stuff in the '90s.
Facebook's "on this day" memories thingo reminded me that I saw a reformed Ups and Downs six years ago to the day, supporting The Wonder Stuff at the Factory Theatre, just down the road apiece, and they blew me away that night. The band reformed and released their second album in 2017 (what's 29 years between drinks) and they've just released a brand new single "The Real World", a re-recorded classic first released on cassette in 1983.
They start short, fast, and loud with a wall of guitars, before an acoustic appears and instrument swapping ensues. A pretty much full house is going off and any attempt at writing notes by this stage is equally hampered by beer and not being able to sit still. Nonetheless a scribbled "SOLITARY MAN!!!" reminds me that I rather enjoyed their Neil Diamond cover.
When I saw them in 2014 and they pulled that out of the bag I went home and learnt to play it, such a great job do they do of what is a stone cold '60s pop classic. Hey, Johnny Cash did it too so don't argue.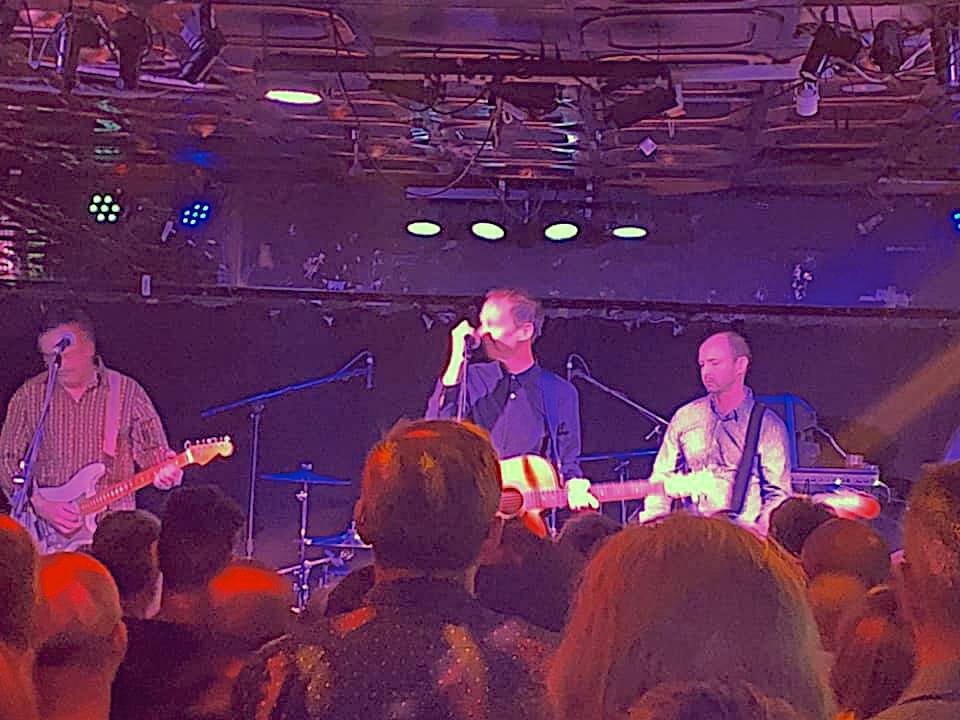 A full-ish house gets into Ups and Downs.
Their contribution to "Shake Yer Popboomerang Vol 3" is a lovely, half-tempo and heartfelt rendition of The Hummingbirds' "Two Weeks With A Good Man In Niagara Falls", as a tribute to their sadly departed friend and one of Australia's best songwriters Simon Holmes. Alannah joins them on stage to do backing vocals and I know I'm not the only one feeling a major tug at the heartstrings at this point. Check out the album version, it's extremely good and a fitting statement of love and loss.
I hope the band won't mind me saying that I think their undoubted career highlight is the gorgeous power pop classic "The Living Kind" which was a high point of Australian music in 1986. As ever, they give it both barrels and leave a dancing, singing, cheering crowd wanting more. And then they come back to deliver one last song, before the house lights come on and a happy crowd head home.
All up a terrific gig, a great night of wonderful bands, make sure you get out there and buy that album. Melbourne's Scott Thurling, the Popboomerang label owner, deserves a massive wrap for his label generally and his effervescent enthusiasm for and non-stop support of local music, and we are lucky to have people like him putting out releases and gigs like this. 10/10.