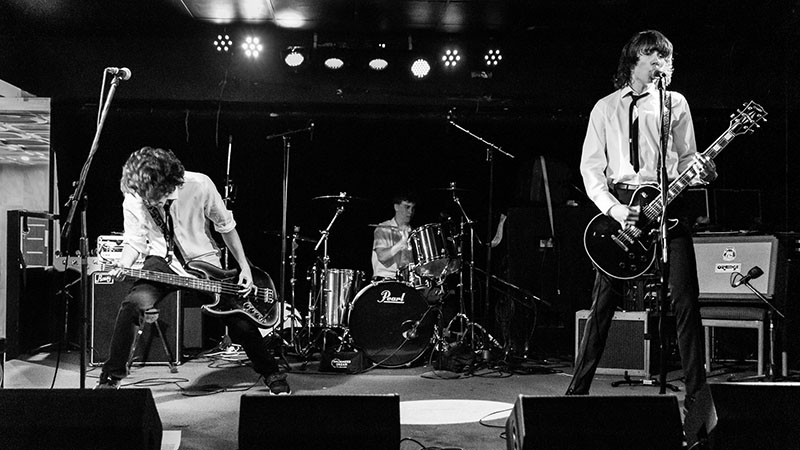 Jamie, Sam and Angus of Pocketwatch.
Pocketwatch is one such band that exploded six months ago with all the style and bratty attitude of The Jam of 1977. They might sport a mod look but there's also a nod to Husker Du. This teenage trio from Sydney just pumps pure energy without any hint of macho spin. Their set tonight is 40 minutes of bravado and youthful swagger.
Starting with a bass sound that had more crunch and bottom end that most bands this side of Sydney's inner west can deliver, Jamie Woodward is just 16 but plays like an adult possessed. He handles his instrument like a like a top flight AFL player with a ball, with the styling of an earely career Paul Simonon. When he locks in with drummer Sam McInerney-Wand (also 16), Pocketwatch is a no- frills freight train.
"Wanted to" is high sonic blast with guitarist-vocalist Angus Ross delivering Pete Townsend power-chording on his black Les Paul. At times his vocal floats around the song. His delivery reminds of late '80s Boston band Anastasia Screamed and it's a clever twist in that he does not stick to belting out a traditional rock vocal. Nor does he need to with a machine like this underneath his songs.
What's interesting is the development of light and shade in songs like "Flowers". It's early days for Pocketwatch but evenin the last few months, they have become a force to be reckoned with.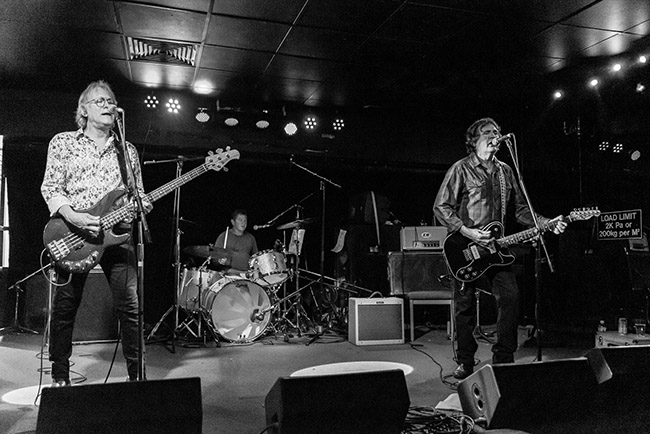 Clyde, Brian and Glenn. The On and Ons.
The Ons and Ons are made of bona fide stewards of the music of the Sydney of the '80s with members of the Screaming Tribesmen and Hoodoo Gurus. It is royalty in the ranks of a band that is almost a decade old with a string of critically acclaimed album releases. Where Pocketwatch were full of youthful excitement, the three-piece Ons and Ons are more restrained and their playing is pure craftmanship.
"Sugar Anne" opens and is classic power-pop with overtones of bubble-gum in its melody. "Mystic Eyes" is wonderful and nods to mid- '60s Beatles with classic harmonies. Glenn Morris' guitar sounds blisters with that P-90 edge and grit. Bassist Clyde Bramley is a powerful player; he's melodic with some very well placed lines and lashings of melody that locks in well with drummer Brian Morris.
"Don't Want To Talk About It" is another power-pop gem with a nod to the Monkees and Alex Chilton. It bops along with a chorus that stays around for days and a wonderful middle eight that boasts perfect harmonies.
The band's thinning down to a three-piece a ferw years back means it's become sparser and no-frills in its approach. Glenn Morris is a rarity in that his vocal can be even more stunning and melodic live than on record. Tonight, we are severed a dozen pop gems played with craft and style
The venue is now filling with what I call veterans of the Sydney Trade Union Club scene. Mesmerisers leader Mick Medew is an enormously talented bloke who cannot do anything wrong. He's in a post COVID creative resurgence with rave reviews for the songs he's created with life partner Ursula in their duo , his solo album and his band. Mick is now getting into the prolific territory of Ed Kuepper.
Set opener "Move a Little Closer" is the Screaming Tribesman classic with solid guitars and a massive chorus. The garage rock guitars scream and the band's sound is loud and crisp. They move straight into "Imaginary Friend" which is pure power pop and a delight with chiming guitars and generous lashings of melody, a hallmark of the stunning album "Open Season".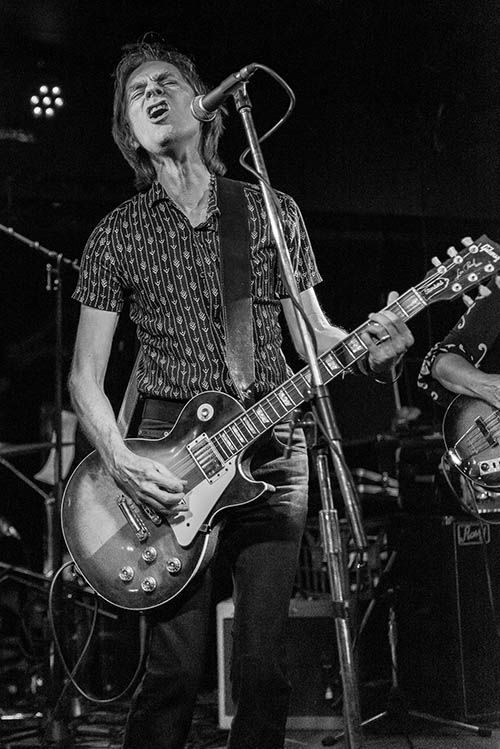 Mick can rock hard and with the Mesmerisers he has the band to deliver on that. We cop a blistering version of The Undertones' "Teenage Kicks", a short blast of 1978 punk meets 1950s garage. Those who were still sitting with beer in hand are now up with their air guitars, with others mouthing the words and dancing.
"Igloo" is sublime and still holds its magic as when it was released in the early'80s. This was a bona fide hit in the alternative charts of the time. Today, a debut song like that would be a world-wide hit off the back of a great video on the Internet.
The cover of "Paint it Black" leaves the Rolling Stones in its wake with some exceptional guitar playing by Brian Mann. Brian makes the guitar scream and chime; he moves from scorching lead breaks to melodic hooks, weaving an arsenal of tricks. I'm just standing and watching his tasteful and stunning playing combined with great harmonies from bass player Lois Andrews.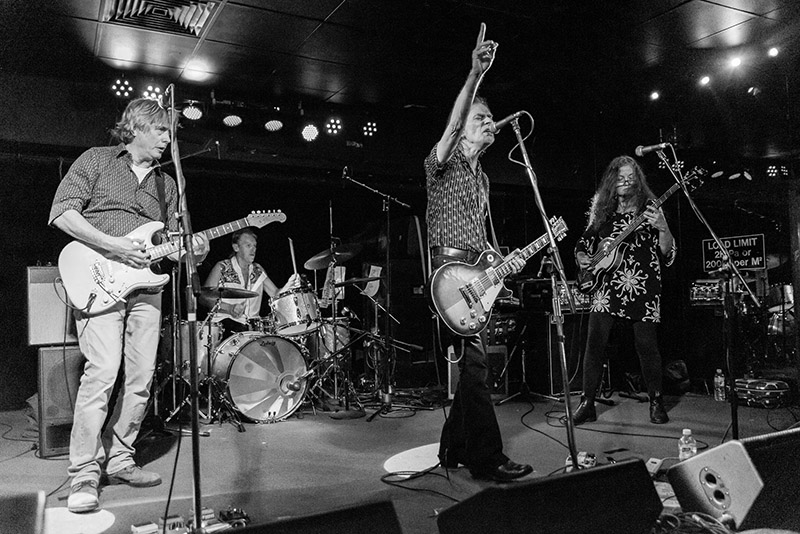 Brian, Michael, Mick and Lois.
"Date with Vampire" lifts the roof off the venue with the rhythm section of Lois and drummer Michael Charles in especially sharp form.
There's a sublime inclusion near the set's end in "Lonely Avenue" Another cover, "20th CXentury Boy" makes its mark. The band was on fire and Mick's vocal just gets better. He's certainly up there with people like Peter Perrett. He's a master of crafting a song and knows how deliver a riff, hook-line and melody.
So we are taken back to the 1980s - back to a secret club of the best music in the world. We could have been on the top floor of the Sydney Trade Union Club or the floor of the Tivoli. It was a stunning reminder of what we had, and a glimpse of the future.