When pop's obvious allure shines through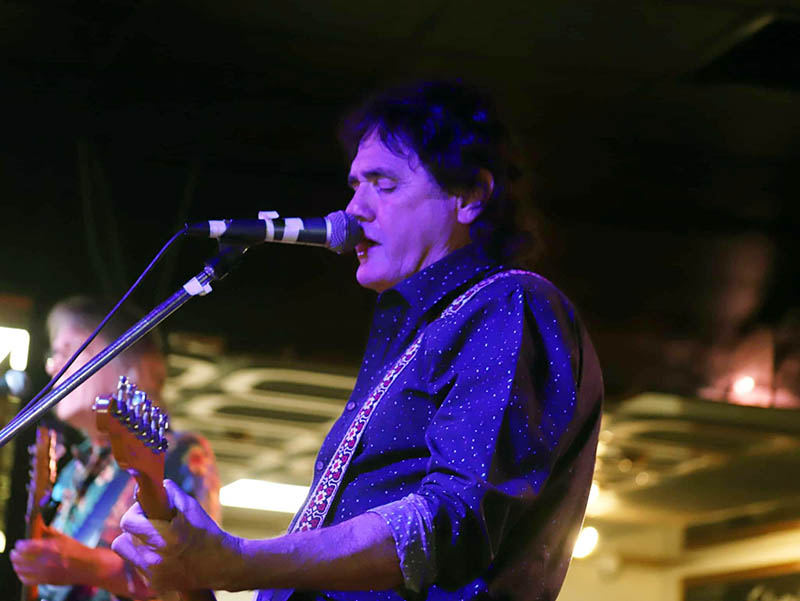 Glenn Morris of the The On and Ons.
The On and Ons
+ The Amazing Woolloomooloosers
Marrickville Bowling Club
Sunday, 12 December 2021
Photos: Shona Ross
Sometimes things are just obvious. Like using the term "pop music".
It's an archaic phrase and more than a little quaint, with its origins way back in the mists of time. Probably severely devalued, too, due to its prolific over-use in modern times.
According to the The New Grove Dictionary of Music and Musicians, it originated in Britain in the mid-1950s as a description for rock and roll and the new music styles that it influenced.
Last Sunday afternoon-evening at Marrickville Bowling Club in Sydney's inner-western blues delta was an occasion for pop music fans. And whether it was a breaking of the lockdown drought or an appreciation that this was an album launch, they turned out in their droves.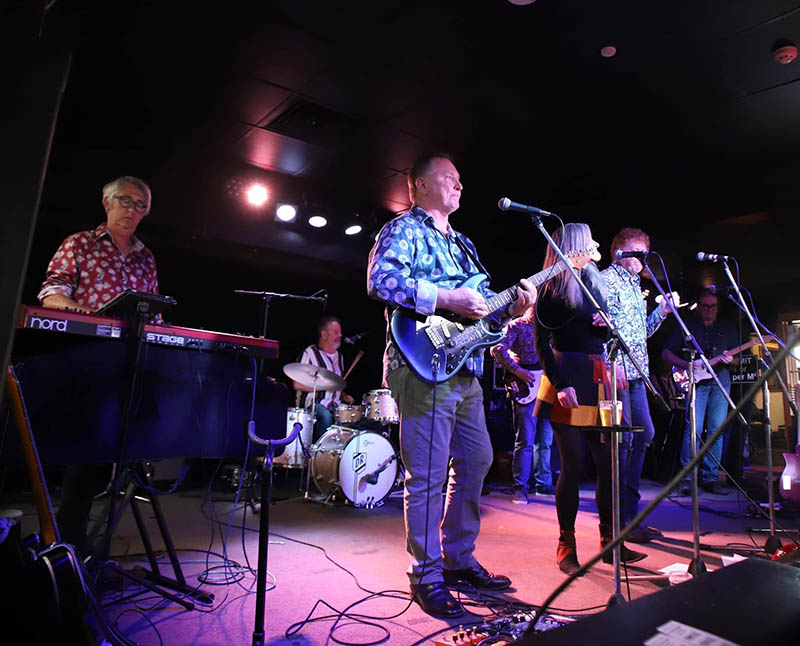 The Amazing Woolloomooloosers. Try spelling their full name seven times in a row.
Support band The Amazing Woolloomooloosers are squarely pegged as a pop band. They embrace it with their covers of bubblegum and soul classics from the 1960s. They've been doing so since the early 1980s.
Sets that are heavy on covers might not be your cup of tea but the Woollies do play them very well. You need to be good to do justice to "Colour My World" and co-vocalist Meliza Keizer is and does. Hubby Peter Ward's choice is spot on when he launches into just-departed Mike Nesmith's "Different Drum". The Remains' "Don't Look Back" and Paul Revere and the Raiders' "Kicks" also get the treatment.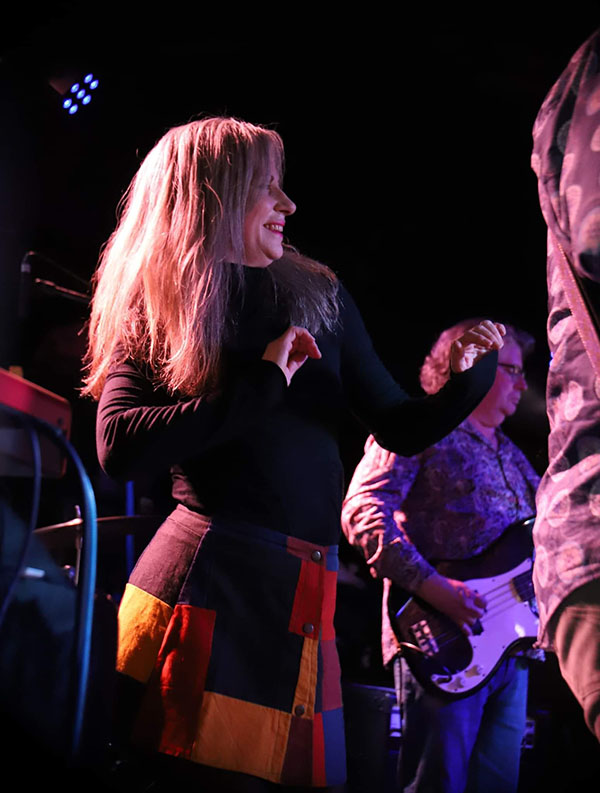 Meliza Keizer: You go-go, girl.
The Woolies have a cadre of fans who do the obvious and cram onto the dance floor. Remember dancing? Gotta wonder why the band isn't on the club circuit, raking in big bucks. I'd like to think it's because some of their number are veterans of the old Sydney Trade Union Club underground scene, and they'd find the concept of dealing with an agent nauseous.
The headlining On and Ons take the stage with their usual lack of fuss. At the risk of again stating the obvious, if you're a fan of pop and don't have their new record, "Back For More", you need it. They showcase it, songs from the previous two long-players ("It's the On and Ons Calling" and "Welcome Aboard") and "Menacing Smile" EP, as well as a handful that are new.
I-94 Bar buddy Patrick Emery said it best six years ago when he reviewed the first record in a Melbourne music magazine that no longer seems to be interested in any band aged over 25:
The fact is, you can listen to an album like 'Calling' and realise that, whatever the mind-numbingly boring, tedious and annoying crap that suffocates your day, a dose of sparkling power-pop can take you to a different place where everything sparkles and shimmers.
And this is what the On and Ons do. They draw their influences from classic '60s pop. FFS, they are pop. It mightn't be that fashionable, but that's what you need to know. It's all in the harmonies with these guys with the Morris brothers (Glenn on lead vocals and guitar, Brian on drums) each wrapping the voice around the other's, challenging bassist Clyde Bramley to find a space. Which he does, very well.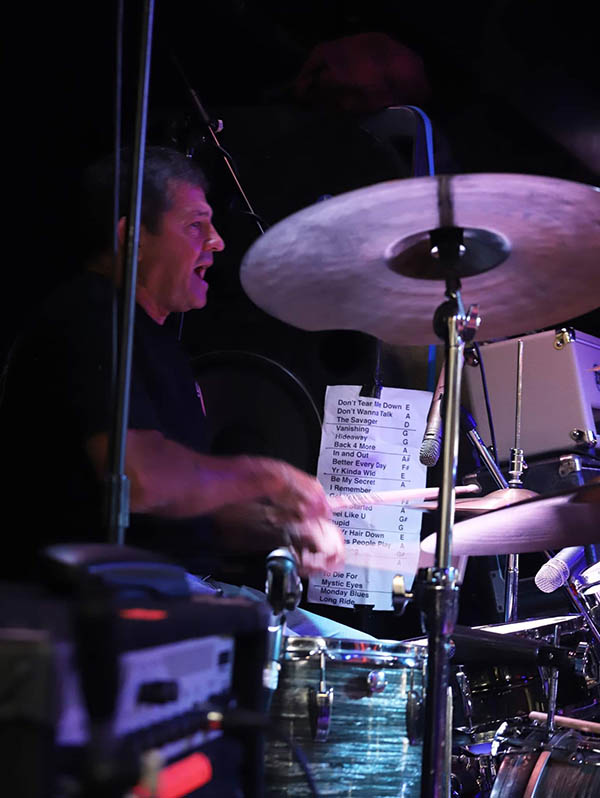 Brian Morris.
The songs have melody at their heart. Not every hook is obvious, but that's a strength. Earwigs can become become tiresome and modern production has rendered them disposable. Your own ears will tell you that if you're exposed to mainstream radio.
The On and Ons are the sort of band that never appear to be stretched. The Celebrity Roadie is at the show (fapping about with the band-s stage gear because he can't stop himself) and comments that Clyde's hands barely seem to move on the fretboard. He makes it look easy and produces a liquid bass tone that fills gaps left by the absence of a second guitar, when required.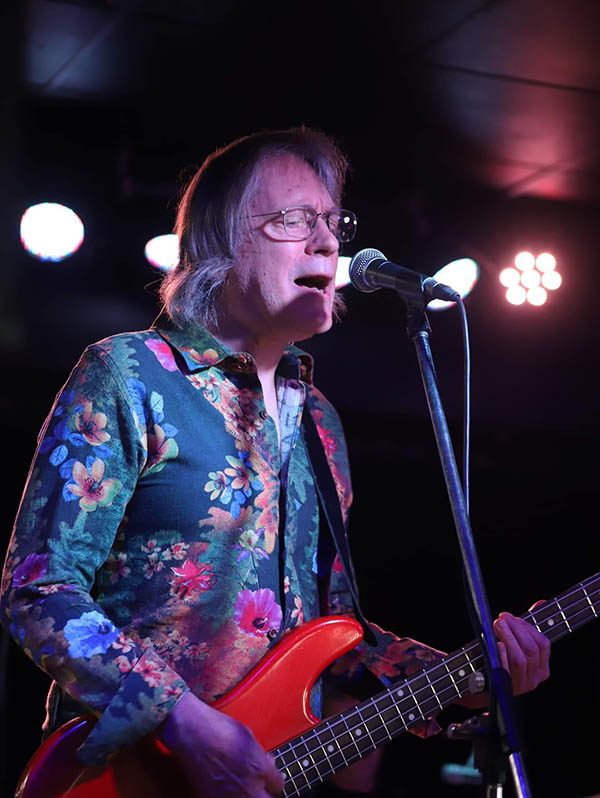 Clyde Bramley.
Glenn's vocal stands on tippy-toes to meet some notes that sit at the edge of his range, but never falls over the other side. He occasionally adds a lead break to a song to colour it. Brother Brian sits at home in his rhythmic pocket, understated, and delivers those back-up vocals with breathless ease.
This evening, The On and Ons sound special. They're tight with a spring in their musical step. You can buy the album here but if you can make it to a show, you should make it your business to do so, too.
Tags: live, clyde bramley, the on and ons, marrickville bowling club, glenn morris, brian morris, back for more, the amazing woolloomoloosers