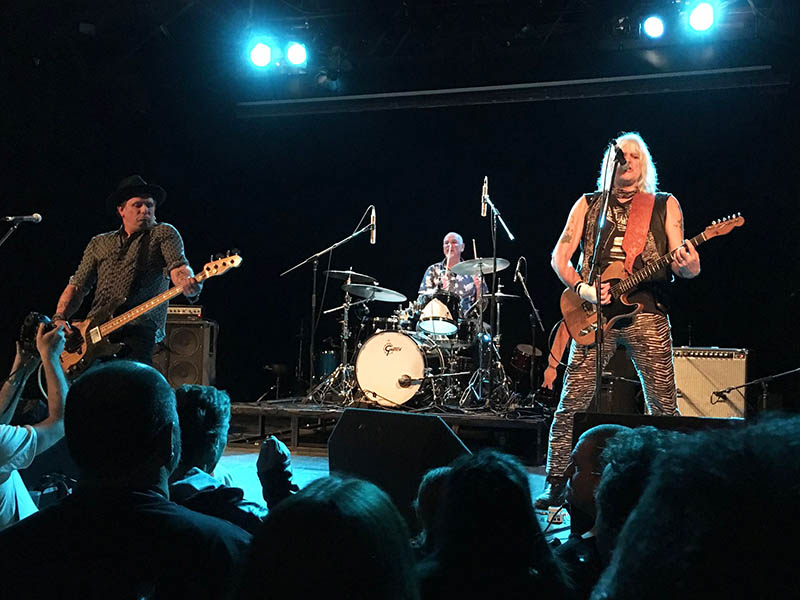 X - 40th Anniversary Tour
with Leadfinger, Golden Fang and Kill Dirty Youth
The Factory Theatre, Marrickville, NSW
Friday, July 20, 2017
Murray Bennett photos
In no way does that demean the other members, some of them longstanding (most notably Cathy Green and Steve Cafeiro), or there from the very start but taken down too early (guitarist Ian Krahe.) The point is that Rilen's astonishing bass playing, gigantic personality and undeniable presence, as much as Lucas' extraordinary vocal and rudimentary guitar, are the most enduring aspects of X.
Apart from the songs: Simple, stark, striking and darkly funny, they sound like those of no other Australian band.
It's 11 years (what?) since Rilen passed away. Lucas has been occasionally taken to task for sporadically continuing with the band name since then. It's doubtful that Ian would have maintained X; he'd said as much more than once and was happy to keep pushing forward with his own Love Addicts, who he wanted to take to Europe. But there's not a hint of rancour in the room tonight- just overwhelming love for the band and its music.
Don't know much about opening band Kill Dirty Youth except they're from Melbourne and absolute spring chickens compared to the others on the bill. They lack a bit of stagecraft and seem slightly out of place on the big stage but they show promise.
Golden Fang sounds like one of those Paisley Underground bands from the US West Coast in the '80s. They're competent enough and singer-guitarist Carl Redfern has a good voice, although their style of music seems slightly out of place on an undercard like this. I'd see them again.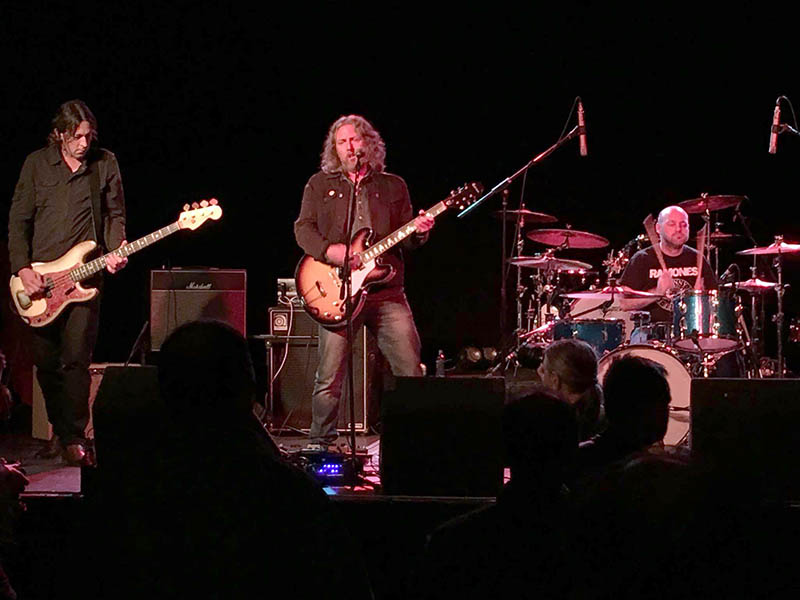 Leadfinger (above) lifts the energy by a couple of notches and delivers a solid set. Newer material in the first half gives a flavour of their fresh recordings and they come home strongly. Pick of the supports for mine and "The Man I Used To Be" was the top pick.
Tonight, however, it's all about this incarnation of X which puts Kim Volkman back in the bass hot seat and adds Doug Falcober (Hunters and Collectors) on drums.
Steve Lucas and his better half, Joey Bedlam, have been staffing the merch table for the preliminaries and have been doing a roading trade with the vinyl Best Of, "X-Citations". It covers the earliest years of the band and i's from there that the bulk of the songs played tonight will come.
I was talking to Ken Gormley, bass-player for The Cruel Sea and mine host at Marrickville's nearby Petty Dash Cafe, before the main set. He cut his musical teeth in the punk psychedlica of Secret Sekret, who found their start in Sydney's Grand Hotel scene - literally down the hill from Radio Birdman's Funhouse at The Oxford Tavern in Taylor Square.
X kicked off as the Funhouse was shuddering to a halt. Their orbit and that of the Radios overlapped but never really collided. As Ken explained, X were the band for The Grand Hotel people - the people who'd arrived too late to be immersed in the Funhouse or otherwise didn't warm to the intellectual/elitist edge the Birdmen and their followers projected.
"X were OUR band," Kenny says.
That sentiment is evident tonight. The Factory Theatre is a big place (800 people) and over the last few weeks, there had been talk of the gig being moved downstairs to the much smaller Factory Floor. There was no need to worry. A minuscule attendance at the start has grown into a couple of hundred-plus by the time Leadfinger wind up.
Not meaning to be mean, but you can tell the age of a headlining act at The Factory by how many people are seated on the couches at the back of the room at the start of the evening. It's full by 8.30 with a few walking sticks and paraphernalia at hand.
The real X crazies - the ones who carved the band's name into their arms to get in for free or revelled in its hard drugs reputation and banged up smack with the misguided conviction they could be "just like them" - are probably all dead by now.
Just like the cemetery they're in, the room's even feeling comfortably crowded when X strolls on. They have a handful of shows under their belt and they're on fire from the outset.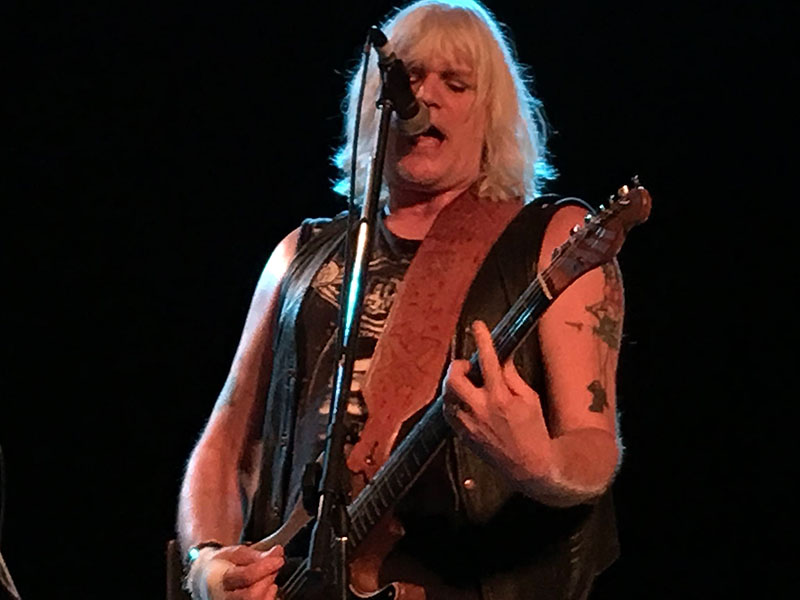 Steve Lucas
Doug Falconer is the best drummer X has had since Cathy Green. Deceptively laid back but precision, power and swing all the way, he drives this bus like a consummate pro. The late Steve Cafeiro's family are int he house and seem to like what they see.
The Falconer connection to X runs deep. Hunters and X were mutual admirers and shared plenty of stages. The Hunters' horns section played with X on those "At Home With You" songs and Falconer happens to be married to one of Ian Rilen's exes.
Last time I saw Kim Volkman on bass with X, he seemed to have Ian Rilen's ghost perching on his shoulder and weighing him down. Of course a lot of Ian has rubbed off on Kim. He was a member of The Love Addicts and his guitar-playing gave them a certain rock edge.
If it seemed he was trying too hard to be someone he wasn't when he was called up to fill Ian's shoes, it was understandable. There's no over-playing tonight and Kim is completely at home, playing the shit out of these songs.
Focussing on the early years, the set contains songs that the "other Xs" had had left alone in its later years. The nagging "Infamy"is one such chestnut among them that still burns brightly.
"Teen Angel" is an obscure Mark Dinning cover that the band used to do back in the day. It's a tragic tale of teen lovers dying in a level crossing smash. X probably found it funny to be singing a song banned by the BBC for its content while they were themselves banned from three dozen venues in Sydney.
You can guess most of the rest of the set list yourself. Start at "TV Glue" (which is magnificent) and work your way backwards. "I Don't Wanna Go Out" is a cornerstone, as always. "Mother" sends its usual shivers up spines and "Degenerate Boy" is rendered with that stuttering cowbell-flecked feel that Cafeiro brought to the song. Falconer is even spotted playing with a drum key in his mouth, at one stage of the night.
Of course all of what remains of X starts and stops with Steve Lucas. He's in stellar voice (and that voice is one of the most underrated in Aussie rock and roll) and more than slightly humbled by the turn-out, as well as the love in the room.
As the T-shirt says…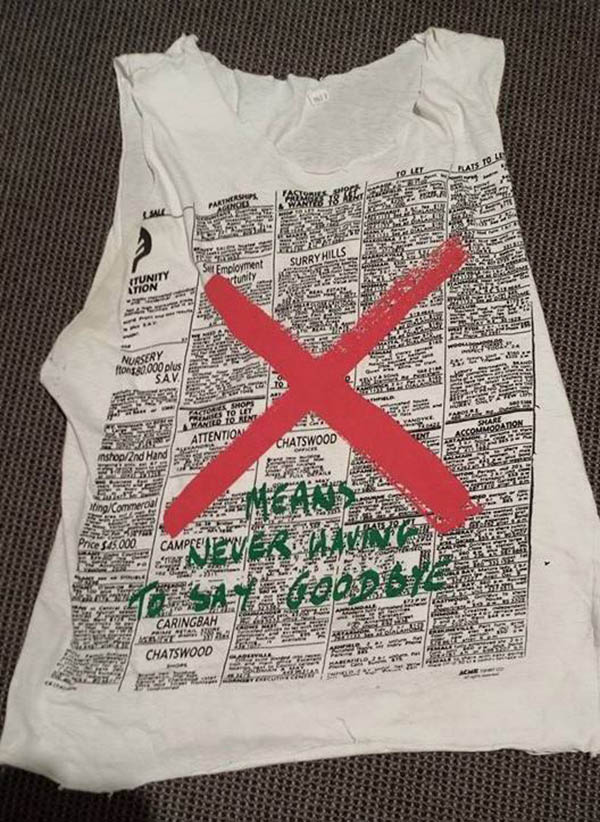 George Madarasz photo