It's Just That They've Missed You: Julie Mostyn on the return of the Flaming Hands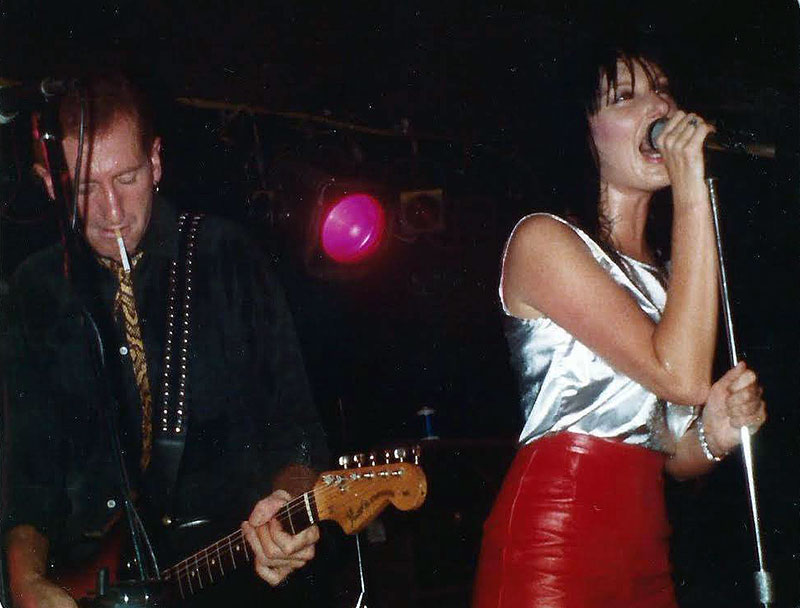 Jeff Sullivan and Julie Mostyn. Steve Teece photo
The dictionary defines serendipity as "a pleasant surprise" and it's a term that scientists working in medical research are fond of using. It's also at the heart of how the looming reformation of beloved Sydney band the Flaming Hands came about.
Singer Julie Mostyn is on the phone from the Coffs Harbour home she shares with husband Warwick Gilbert, onetime bassist and graphic artist for Radio Birdman. She clearly remembers serendipity's intervention on that very same landline, late in 2016.
"It was one of those life-changing phone calls…one that shocks you out of something you've been trying to get out of for a while," she recalls.
"It was a call from Peter Oxley of the Sunnyboys, and he said: 'Would you consider reforming the Flaming Hands?' And I thought for half a second and said: 'Yeah, that'd be good'."
Talk about timing. It was as good as any excuse for Julie to ditch her day job in a local bank and embark on what's not so much a career revival as a chance to revisit great times, renew old partnerships and - maybe - push the musical boat out just a little further.
More on that last point later. More immediately, it means Flaming Hands supporting the Sunnyboys at the Sydney show of their February Australian tour, with similarly reformed friends, Shy Impostors, opening the gig.
Flaming Hands were Sydney's best soul and psych pop band, a potent and popular outfit based around Julie Mostyn's passionate voice and guitarist Jeff Sullivan's emotion-baring songs.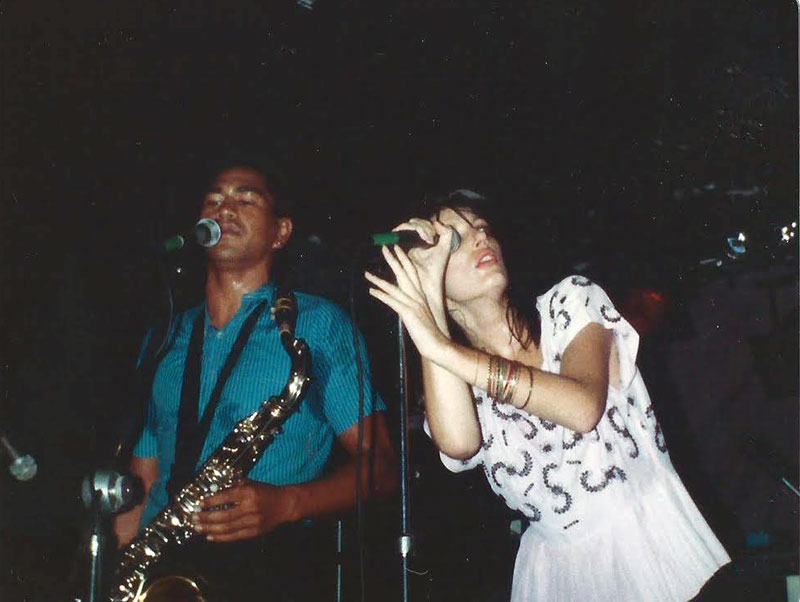 Saxophonist Paul Maheno aka Sluggo and Julie. Steve Teece photo

Julie's striking stage presence and voice and Sullivan's sharp guitar playing were stand-out features, as were featured keyboards and sax. Early members included baby-faced Visitors bassist and Passengers keyboardist, Steve Harris, on keys and ex-Leftovers and Riptides member, the late Michael Hiron, on drums.
The band emerged from the burgeoning inner-Sydney music on the fledgling Phantom Records label in 1980, released a string of brilliant singles, flirted with commercial success and issued an eponymous LP on Big Time in '84, before calling a halt in 1985.
But back to that phone call, Julie. Are you seriously saying that nobody asked before?
"No and I never would have dreamed of it," she responds. "It started a search to find everybody. I'd been in touch with Jeff, of course, but not anybody else in the band."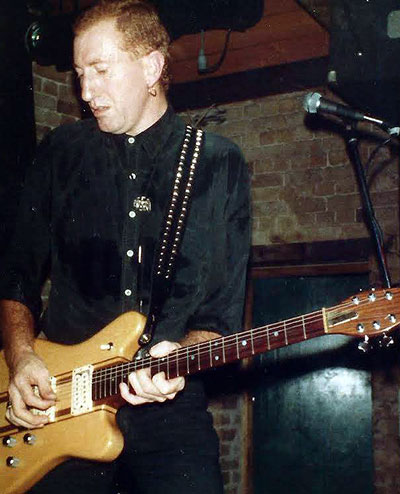 She didn't have far to look for half of an engine room. He lives under the same roof.
"Warwick was the perfect bass player, so he's playing with us. And then it was up to finding Paul Maheno - Sluggo - the sax player, and one of our keyboard players, Peter Bull. He was in Western Australia. And then we needed a drummer."
Original drummer Alan Brown (also a member of the Passengers) proved untraceable. The next choice was a mate of Peter Bull, but he suffered a dog bite injury on holiday in Bali (it's usually a bizarre gardening accident or spontaneous combustion with drummers) so the stool has gone to well-qualified Sydneysider Barton Price, ex-Sardine v, Dragon, Choirboys and more recently back with the sporadically reformed Models.
(Julie was in touch with Steve Harris, now living in Queensland, but he's been unwell.)
One rehearsal later and with another week of practice pencilled in as lead-up to the February 4 Sunnyboys show, Flaming Hands are once again a going concern. The gig (and a soon-to-be-formally announced, not-so-secret warm-up show, also in Sydney) threaten to bring out onetime inner-city gig-goers who haven't been to see a band in 20 years.
And why not? The synchronicity of it all is irresistible. Sunnyboys-Flaming Hands show were a common occurrence back in Sydney's live heyday, and Sunnyboys bassist Peter Oxley and guitarist Richard Burgman were in Shy Impostors. Julie, Shy Impostors vocalist Penny Ward and Passengers singer Angie Pepper all came from the Radio Birdman Funhouse scene.
"We were all friends, Sydney was a much smaller place back then and if you weren't mainstream and you were looking for something a bit different," Julie remembers.
"I was friends with Dare Jennings, who went on to do (clothing label) Mambo. We did Phantom T-shirts together. We were all friends…(Phantom Records co-founder and onetime Birdman manager) Jules Normington, Penny, Angie and Rob Younger. We all hung out together and went to each other's places.
"Of course, going to see Radio Birdman was a complete revelation to me.
"I grew up in Kings Cross. I used to see, with my parents, cabaret people like Liza Minelli and Sammy Davis Jr, but I'd never really seen a full on rock and roll band. Through my aunt, Patti Mostyn, who used to be Johnny O'Keefe's secretary, I had gone to see Johnny, who had (TV show) 'Six O'Clock Rock'.
"I was a little politicised. Whitlam had been sacked and that was pretty shocking.
"But I'd never seen anything like Radio Birdman. You'd run up the stairs at The Funhouse and you'd be 'Oh my God, this is fantastic, it's just something else.'

"It was just a good time. Anybody could have a go and, if you had that inclination and you wanted to express yourself, it was great music to rebel to. To rebel by. We used that as our anthem, in a way.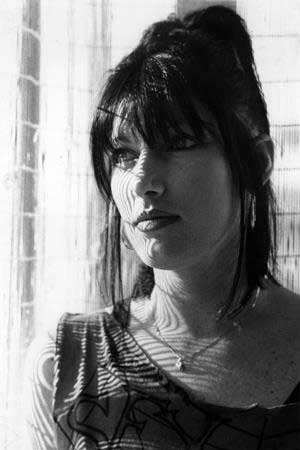 "Radio Birdman was the incubator for a lot of bands that grew out of that scene."
Growing up with a father with a sizeable collection of US import vinyl, Julie cut her live teeth with a blues band called the Jive Bombers. Then came Kamikaze Kids, a raw rock and roll band that sprung up to play with like-minded friends like X.
"We couldn't play very well. Well, that was me, mostly. Peter Countache (later to play in X) was a good guitar player and Ron Blake was also good on bass.
"We did have the energy and the drive. We just got caught up in the spirit of the times. It got us by the neck and we gave it a good shake. We had a lot of fun and played around Sydney quite a bit."
The simultaneous dissolution of the Kamikaze Kids and the Passengers, the latter due to Angie moving to the USA, gave birth to the Flaming Hands.
"The idea was to play a party or two," Julie says. "We were all friends. We got together to play and have a bit of fun. Jeff and I hit it off musically. We were a very good partnership for a long time. Why stop when you're having fun?"
That same serendipity played a part in the Flaming Hands becoming a recording band in 1980 with the release of the striking and soulful 45, "I Belong To Nobody" backed with a cover, "The Stranger"
"We were the label's second release (after the Passengers single.) There was no grand plan or anything like that.
"Dare and I had been doing the Phantom T-shirts. The label came a little after that. By that stage I'd been playing in a couple of different bands. It (singing) was just something I loved doing, a way of expressing myself at the time.
"And then the Flaming Hands started..it was just like 'Oh well, we might as well do a record'. Dare and Jules said: 'Yeah'."
The wonderful "Wake Up Screaming" b/w "Sweet Revenge" followed in March '81 and the even better "Go Or Stay" b/w "It's Just That I Miss You" a year later, both on Phantom. The addition of Sluggo on sax made the band even more distinctive.

Recorded live "on a show somewhere" with Sunnyboys.
By 1982, the Flaming Hands were attracting industry attention and pulling big crowds - and not just in their familiar inner-city haunts but suburban hot spots like the Royal Antler at Narrabeen (home to Midnight Oil and known to the Flaming Hands as "Buckets of Blood") and Caringbah Inn.
"We got picked up by Chris Murphy Management," Julie recalls. "Chris Murphy managed INXS at the time and they were beginning to break. He saw us live - I think we were playing with INXS at Selina's - and he offered us management, there on the spot."
High profile supports followed for the likes of The Clash, during their legendary Capitol Theatre run in 1982. The bands got on well over drinks in Kings Cross and Clash manager Bernie Rhodes became a fan.
"That was great. That was through Chris Murphy. To be able to not only see The Clash but to support them. I think we did three gigs with them. We also supported Tom Waits. We did a few nights with him as well."
Steve Teece photos
When it came time to record their debut album, the Flaming Hands were persuaded to take a different path to previous sessions, mixing funk with more prominent keys and tight electro-rhythms. The "Flaming Hands" LP (1984) had a strong commercial push - it spawned four singles - but divided fans.
"I hadn't played it for years and years until recently," Julie remembers. "I had to play it to re-learn some of the songs. It sounds very '80s but there are some good songs on there."
Murphy's omnipotent influence extended to members of INXS being involved in the sessions.
"The way the INXS thing happened was through being managed by Chris Murphy. We had played quite a few gigs with them and were good friends. So they ended up playing on 'The Edge' and a couple of other songs. We did one called 'Cross My Heart' that they played on, this funky thing.

An unreleased song, demo'd to four-track at home.
"I know we did cop a bit of flak for trying to go mainstream but that was never our intention. It was probably the intention of Chris Murphy because that was his whole shtick.
"He probably suggested that we get a few session musicians to play on this as well. I really can't remember.
"It was still based on the structure of the band - Jeff's songwriting, my singing, and that emotion and passion. To me, it wasn't such a huge leap, but I can understand how others might have seen it as trying to enter the mainstream or cashing in. But anyway it didn't do that well anyway."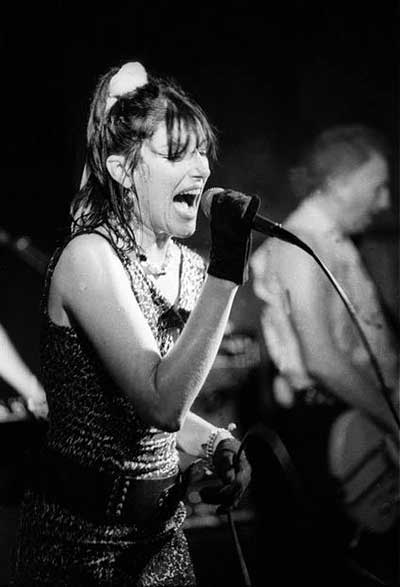 Julie and Jeff at Caringbah Inn. John Veage photo
You get the feeling that Julie Mostyn is entirely comfortable with the place Flaming Hands occupies in the history of what was a golden era for Australian music. It's no surprise to hear that being satisfied with the making of the music far outweighed any other aspect for her.
"When you've only got one way of having a voice in the world, you tend to want to follow that star, whatever it may be. With music, that's always been the place where I've felt strong in the world. Even though I had to do a lot of other jobs. You know, a girl's gotta do what a girl's gotta do.
"Music's not the easiest career in the world - especially for a woman and especially back then. Music's always been that rock that I've stood on to make myself feel like I have a voice in the world.
"For me there's a great joy to be able to express my emotions through those songs….that's what's so wonderful about performing. It's that connection with other people and sharing some feelings together. And that's what I love about live performance. To have a really good song to do that with is just pure pleasure."
No surpruse then that the renowned commercial smarts of Murphy did not sit well with the more grounded motivations of the Flaming Hands principals. Julie and Jeff drew the curtain on the band in 1985.
"He (Murphy) was a pretty driving kind of a manager….he pushed us a lot to have world domination. And that had never been a motivation of mine. I just wanted to express myself.
"And I suppose I gave up what many people would give their eye teeth for. I just didn't want to enter into the whole music industry business thing of having to conform with certain standards. That was never what I was about."
When did the penny drop?
"Well, when you start getting told what to wear and how to talk and what to do in every way…you know, it doesn't take long to realise: 'This isn't for me'. I backed out of it."

Serendipity meets the science of marketing. Not a good mix. Let's fast-forward to the present day.
"Jeff's written some really good new songs and I'd really like to record them. I don't want to make any big plans, just take things as they come.
"The first step for me would be to record those songs. They deserve to be recorded in some way. But I haven't thought further than that."
At their heart, Flaming Hands were always about the music. With no deadlines to meet or pressure to resist, that's how it is in 2017. But let's allow Julie Mostyn the last word,
"I'm at the age where I don't have to worry about a career as such. Money has never been one of those motivators for me. It's always been the music, the expression and the connection - with band members and the audience.
"Without the audience, of course, there would be nothing."
Mystery gig:
Sydney - The Factory Theatre
Thursday, 2 February 2017
The Strangers (aka ?)
+ The On and Ons
Tickets www.factorytheatre.com.au
Sunnyboys play Sunnyboys Tour
(Flaming Hands and Shy Impostors play Sydney only)
Gold Coast - NIGHTQUARTER
Friday 3 February 2017
Sunnyboys
+ special guests The Celibate Rifles
+ Ed Kuepper (with Mark Dawson)
$75.00 + bf from www.Nightquarter.com.au or www.Oztix.com.au
Sydney - Enmore Theatre
Saturday 4 February 2017
Sunnyboys
+ special guests Flaming Hands & Shy Impostors
Tickets $78.95 (includes GST, booking fee & payment processing fee – some transaction fees may apply) from www.enmoretheatre.com
Melbourne
The Croxton
Friday 10 February 2017
Sunnyboys
+ special guests X
Tickets $60.00 + bf from www.thecroxton.com.au
Tags: sunnyboys, radio birdman, flaming hands, shy impostors, phantom records, julie mostyn, jeff sullivan, the passengers, penny ward, angie pepper, jules normington, dare jennings