Details

By

The Barman

The Barman
C'mon Sydney: Let's do it for Stew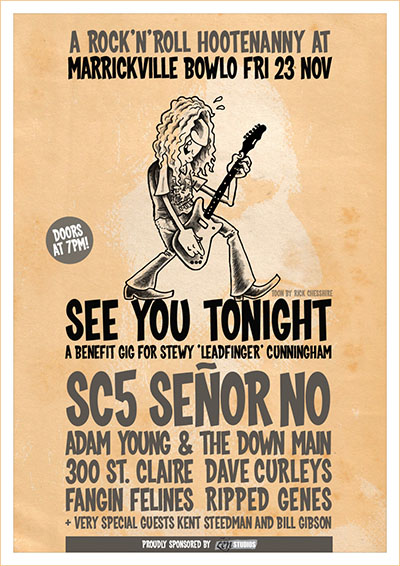 After such a phenomenal fundraising performance by Team Leadfinger (Melbourne Branch) and everyone at the Tote Hotel in Melbourne recently, it's time for Sydney/Wollongong Team Leadfinger to run with the momentum created.
A group of friends are organising "See You Tonight – A benefit gig for Stewy 'Leadfinger' Cunningham" at Marrickville Bowling Club on Friday, November 23.

Cunningham, singer-guyitarist for Leadfinger, Asteroid B612, Challenger 7, Proton Energy Pills and The Yes-Men, was diagnosed with lung cancer earlier this year
This will be one memorable night with a host of Sydney and Wollongong artists coming together to celebrate the man and the music that is Mr Cunningham.
Also on the bill are international tourists Señor No, direct from the Basque country in Spain. High-energy veterans Señor No are big fans of Australian underground music and played host to Leadfinger when they toured Spain in 2017. This will be their only Sydney show.
The line-up is:
SC5 (Sydney's own amazing MC5 tribute featuring ex members of the New Christs and Lime Spiders)
Señor No
Adam Young and the Down Main (Adam and mates bring some Alt Country rock to the night)
300 St. Claire (Sydney Blundstone rock from guys you all know)
Fangin Felines (a very new band with Carrie Phillis from Booby Traps and Morgana and Sarah from Nitocris)
Dave Curley's Ripped Genes (featuring members of Leadfinger along with special guests Kent Steedman (Celibate Rifles), Bill Gibson (The Eastern Dark) and others.
Be sure to stuff your wallets with cash money for the night. With the awesome assistance of some great labels and record stores across Australia, organisers will be raffling off CDs, vinyl, tees and other goodies. Tickets here.