All This And More: Dead Boys line-up re-records classic album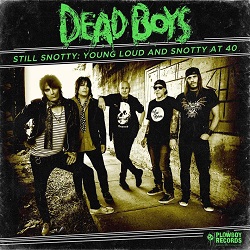 Here's some news that will stir the embers of controversy. Original Dead Boys Cheetah Chrome and Johnny Blitz have been taking a line-up on the road in the US to celebrate the 40th anniversary of the band's seminal album, "Young, Loud and Snotty".
Now they've announced they're releasing a re-recording of the landmark record.
"Still Snotty: Young, Loud & Snotty at 40!" is being released on Nashville-based Plowboy Records on September 8 with a US tour kicking off in Dallas, Texas, on September 7. A handful of dates have been announced and you can follow the itinerary here.
Formed in Cleveland in 1976, the Dead Boys were one of the first American acts to combine the proto-punk fervor of bands like the Stooges and the New York Dolls with a new level of intense energy.
"I've had my solo band for the last 10 years, and Dead Boys songs have always been included in my shows," Cheetah Chrome told Metal Rules. Over time, the right mix of people came together to pull off and at times enhance the Dead Boys sound.
"With the 40th anniversary of the Dead Boys on the horizon and a solid band that could interpret and deliver the performance and sound needed to maintain the authenticity of the Dead Boys, I reached out to Johnny Blitz about an anniversary tour and he said yes."
Chrome and Blitz are joined by Jason Kottwitz on guitar, Detroit punk legend Ricky Rat on bass and vocalist Jake Hout from Dead Boys tribute band, the Undead Boys.
Earlier this month, the revived Dead Boys and Junkyard co-headlined Los Angeles' Viper Room to a sell-out crowd.
"Young, Loud and Snotty" (1977) was a landmark in the birth of hardcore punk and produced one of the first great punk anthems, "Sonic Reducer." After one more album, the band split in 1979. They reunited for a few gigs in the 1980s, but following the death of lead vocalist Stiv Bators in 1990, the band members went their separate ways except for two brief reunions in 2004 and 2005.
A handful of dates have been announced so far but you can follow the itinerary here.
Tags: dead boys, cheetah chrome, johnny blitz, young, loud and snotty