Strange Flash! Ultimate Lipstick Killers collection looms on LP and CD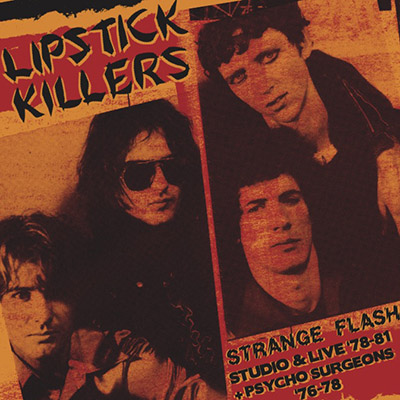 The long-awaited anthology of material by Australia's legendary Lipstick Killers finally arrives on CD and LP on Grown Up Wrong! Records on June 25.
"Strange Flash – Studio & Live '78-'81" as a double-LP will include the original 1979 "Hindu Gods of Love"/"Shakedown USA" single, the posthumous "Sockman/Pensioner Pie' 45 plus additional studio masters from the same '78 session; an unreleased album-length 1980 demo session recorded by Australian guitar god Lobby Loyde; and the near-complete LA show that comprised the original live album "Mesmeriser".
The "Mesmeriser" tracks will add additional tunes and subtract a couple that one band member wasn't happy with.The set features liner notes by Ugly Things contributor and Grown Up Wrong! Records' Dave Laing, some killer pix and flyers and repro's of the stunning Lipstick Killers posters designed by highly collectable Sydney poster artist John Foy, and a piece by Byron Coley.
The LPs will be a run of 500 copies on orange vinyl an 500 on black.
The double-CD includes adds a near complete live show recorded in Adelaide in 1978, some of which was released on a handmade cassette by members of the band in the mid-'80s, and a couple of the tracks of which appeared on a very limited run 45 also released by the band in later years. But a good chunk of it has never been heard - and it is wild.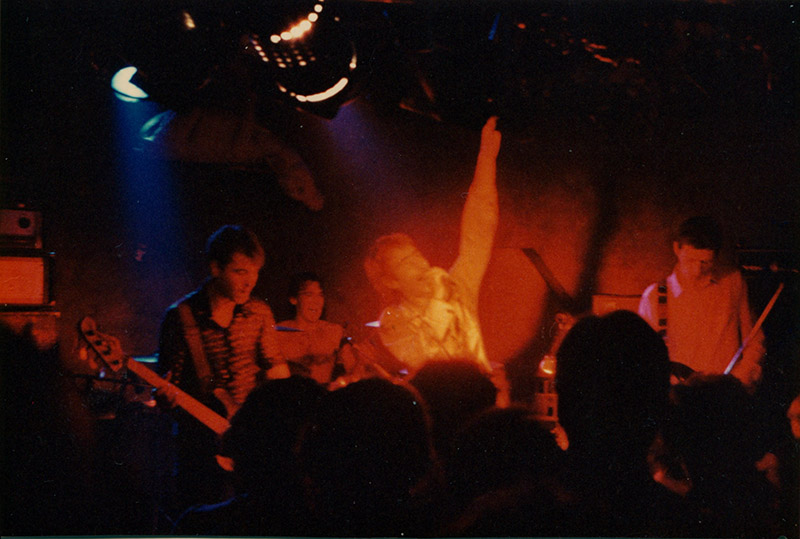 George Munoz photo.
The CD edition includes the revered "Wild Weekend"/"Horizontal Action" 45 released in 1978 by the band that the Lipstick Killers formed from, the Psycho-Surgeons, as well as a couple of 1976 rehearsal recordings from the Psychos' very early days, which were released on a seriously limited edition 45 on Blank Records a number of years ago. Further notes by Steve Lorkin of '80s Sydney zine 48 Crash fame, more clippings and additiopjnaql images round out the CD package.
The Lipstick Killers blazed a trail in late '70s post-Radio Birdman Sydney before gigging with the likes of the Gun Club and the Flesh Eaters in Los Angeles where they crashed and burned in 1981. The Lipstick Killers released just one single in their life time – the perfect '79 Deniz Tek-produced "Hindu Gods" on their own Lost in Space Records and Greg Shaw's Voxx Records. A posthumous live album and a couple of archival 7" releases followed. It was all incredible.
The Lipstick Killers' enigmatic and high-energy sound – heavily inspired by the Stooges and the '60s psychedelic punk sounds– bridged the gap between Radio Birdman and subsequent Sydney groups like the Sunnyboys (whose first-ever show was opening for the Lipstick Killers), Lime Spiders, Hoodoo Gurus and Psychotic Turnbuckles. And of course they anticipated generation after generation of other bands with similar things in mind, right up to today's '60s-inspired freaks like The Living Eyes and Thee Oh Sees.
And they put it across with a fearsome intensity; so much so that Circle Jerks and original Black Flag frontman Keith Morris, having witnessed a couple of their LA shows, later described them as "easily one of the greatest live bands I've witnessed in my 65 yrs. on this planet ".
With original copies of their material in high demand internationally amongst fans of both '70s punk and '60s-styled garage rock, "Strange Flash" will allow fans to hear the full range of the Lipstick Killers enigmatic powers – a range that really hasn't been witnessed since the band last took the stage. You'll want to handle it with care; as Lipstick Killers frontman Peter Tillman liked to say, "it might sever your torso from your legs".
2CD Tracklisting (* CD only tracks)
DISC 1
Hindu Gods of Love
Shakedown USA (Lost In Space/Voxx 45 – 1979 – produced by Deniz Tek)
Sockman
Pensioner Pie
Teen Police
* Hindu Gods of Love (demo)
Rot In Love
Accidents (Mixdown Studio Demos -1978)
* Shakedown USA
* Dying Boy's Crawl
* Master's Words
* Bully
* Teen Police
* Wild Weekend
* I've Got Levitation
* Mercy Killer
* Pharmaceutical Au-Go-Go
* Human Crash
* Crush On You
* Hindu Gods of Love
* Head Off
* Sock It To Me – Baby!
* Sockman
* Horizontal Action (Live In Adelaide – May 1979)
DISC 2
New Hard Fun
Mesmerizer
Driving The Special Dead
Bongo Flip
Twilight Of The Idols
Strange Flash
Hide & Seek
Date With A Thing
Liquor Fit (Trafalgar Demos 1980 – Produced by Lobby Loyde)
Dying Boy's Crawl
Driving The Special Dead
Bongo Flip
Strange Flash
Twilight Of The Idols
I've Got Levitation
Date With A Thing
Sock It To Me – Baby!
Shakedown USA
Pharmaceutical Au-Go-Go
Out Of Our Tree
Liquor Fit (Live In Los Angeles – 1981)
* Psycho-Surgeons - Horizontal Action
* Psycho-Surgeons - Wild Weekend (Wallaby Beat 45 -1978)
* Psycho-Surgeons - Falling Apart
* Psycho-Surgeons - Crush On You (Rehearsal – 1976)
2LP Tracklisting
SIDE 1
Hindu Gods of Love
Shakedown USA (Lost In Space/Voxx 45 – 1979 – produced by Deniz Tek)
Sockman
Pensioner Pie
Teen Police
Rot In Love
Accidents (Mixdown Studio Demos -1978)
SIDE 2
New Hard Fun
Mesmerizer
Driving The Special Dead
Bongo Flip
Twilight Of The Idols
Strange Flash
Hide & Seek (Trafalgar Demos 1980 - produced by Lobby Loyde)
SIDE 3
Date With A Thing
Liquor Fit (Trafalgar Demos 1980 – produced by Lobby Loyde)
Dying Boy's Crawl
Driving The Special Dead
Bongo Flip
Strange Flash
Sock It To Me – Baby! (Live In Los Angeles – 1981)
SIDE 4
Twilight Of The Idols
I've Got Levitation
Date With A Thing
Shakedown USA
Pharmaceutical Au-Go-Go
Out Of Our Tree
Liquor Fit (Live In Los Angeles – 1981)
Tags: psychosurgeons, lipstick killers, mark taylor, dave laing, grown up wrong, strange flash, peter tillman