Sydney bands rally for Mick Blood with all-star benefit gig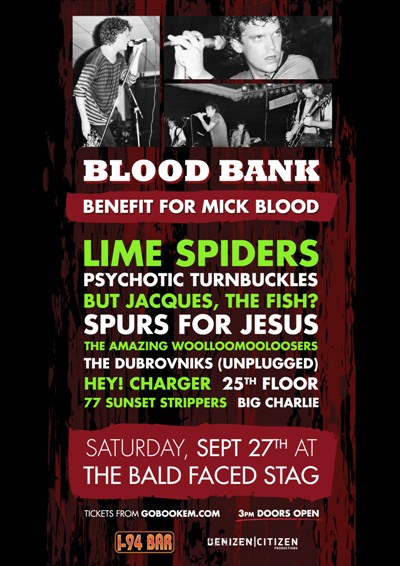 Mick Blood's life was turned upside down in June this year when an altercation in a pub in his new home of Newcastle left him in hospital with serious head injuries.
The vocalist for legendary Australian band the Lime Spiders suffered brain damage and faces a long road of rehabilitation and recovery.
The Lime Spiders were one of the most influential bands to spring from the fevered Sydney underground scene of the 1980s. After the success of their "Slave Girl" single on Citadel Records, they went on to sign a global record deal and toured the world.
Over the course of three studio albums, four EPs and a live record, the Spiders cut a swathe through the Aussie music scene, appearing on the soundtrack to the "Young Einstein" movie and earning praise from the likes of Jello Biafra, Iggy Pop and Joey Ramone.
The cream of the Sydney scene is now rallying behind Mick in his hour of need with an all-star benefit show scheduled for the Bald Faced Stag Hotel at Leichhardt in Sydney from 3pm on Saturday, September 27.
Headliners the Lime Spiders are playing their first show in a year, with an array of surprise guest singers deputising for Mick.
They'll be joined by the Psychotic Turnbuckles, the undisputed champions of fuzz guitar rock and roll wrestling who will fly in from their home of Pismo Beach, California, one more time.
The identity of mystery act But Jacques, The Fish? is a closely-guarded secret but they may be one step removed from a "gun" outfit who rank as one of the Australian scene's most iconic bands.
Spurs for Jesus are back in the saddle after an enforced lay-off due to an industrial accident that struck down guitarist Martin Martini and are itching to lift the roof with their brand of haybale rock.
The Amazing Woolloomooloosers were inner Sydney's premier rock and roll party band in the '80s and have reconvened to reclaim their crown.
One of the most fondly remembered Sydney bands of the '80s, The Dubrobvniks will reform most of their members for the first time in a quarter of a century to play a stripped-down set.
Hey! Charger is the three-piece piloted by ex-Lemonhead and The Eastern Dark bassist Bill Gibson with Big Al Creed and Peter Kelly (both ex-New Christs) in tow and will play only their second gig in 20 years.
25th Floor (in tribute to Patti Smith), 77 Sunset Strippers and bubblegum rockers Big Charlie complete a super line-up.
Doors open at 3pm and tickets are $25 ($20 in advance) from gobookem.com
Tags: Mick, lime, spiders, blood, benefit