Wine and cola or pizza and beer? Johnny Casino cooks up a lavish box set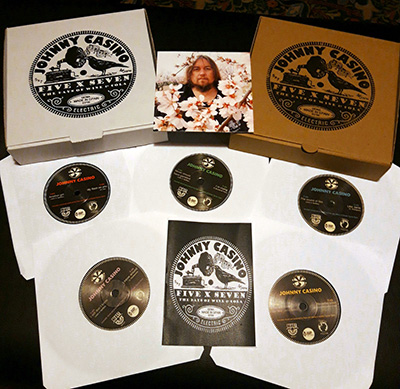 Perennial I-94 Bar favourite Johnny Casino has a limited edition of seven-inch singles out under the apt name "5x7 - The Days of Wine and Cola".
The physical boxset is in a run of 200 copies only and is available on Bandcamp here or through European labels Folc (Spain) and Beast (France). The digital edition is out on all platforms through Golden Robot Records.
Now living in Spain, the man once known as John A Spittles is the founding member and songwriter of the great Australian rock 'n' roll band Asteroid B612, Philadelphia PA's Johnny Casino's Easy Action, the rotating line-up that is Johnny Casino and the Secrets (featuring the who's who of Australian rock 'n' roll), The Egos, The Lord Street Sound, and Carrie Phillis and the Downtown 3.
Casino is a musicila journeyman always looking for new challenges whether it's a riff to plunder, a melody to celebrate or a moment to capture, so let's allow Johnny describe the concept of the release: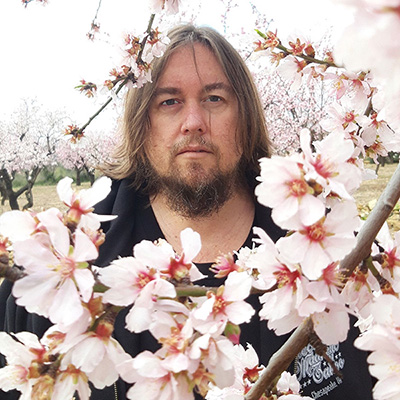 A crazy idea? Probably, but an idea, none the less!!
I am a dreamer and as a kid while I was playing frontyard footy with my mates, I dreamed of playing first grade (rugby league) for the North Sydney Bears. Once I picked up a guitar and started to write my own songs, I dreamed of the many ways I could release records.
Well, up until now I have pretty much made a lot of those dreams come true, and while I never played first grade for the Bears, I have released many records in many formats BUT until now never a singles box set!.
'5x7 - The Days of Wine and Cola' is in a handmade, hand stamped, hand numbered box which also contains a CD with all the tracks from the singles, plus a bonus track, and a handmade booklet.
Would you call it 'Artisan'? Maybe, but let's just call it a lot of work, but fun.
Each single contains a new Casino original on the A side and Johnny´s version of some of his favorites on the B sides, including covers of Love, The Animals, Rodriguez, Lee Hazelwood and The 13th Floor Elevators.
Great homemade pizza is to thank for this project being what it is. Over to Johnny:
I had made a date to be in the studio with my brother Pepe to start work on new songs for a new album. We had started recording some basic acoustic tracks for the songs and at around 2pm we had recorded the acoustic 'beds' for six new original songs. It is at this moment when Pepe says, "Hey, Johnny, I´m hungry and I feel like cooking some pizza, let´s have lunch'.
If you have had one of Pepe´s homemade pizza´s, you don´t say no! So, after eating a belly full of pizza and a beer or two, we went back downstairs into the studio to keep working.
I´m not sure if it was the pizza or the beer, but I then said to Pepe, 'Okay, let's just finish the day by recording some covers for fun and I'm sure I will find a way to use them in the future' and so we did. Later that night in my home in Denia, I was reflecting on what we had done in the studio that day and it occurred to me that we had enough songs to make the ever-elusive singles boxset.

We made arrangements to have the rest of the band come in and play their parts, which took longer than usual because of the pandemic but in the end, we got there! Alongside Pepe and me doing our things, you can hear Isidro Rubio on the drums and percussion, Julian Marco on bass guitar and Lucy Ellis on backing vocals, all recorded and mixed at Estudio Tigruss in Els Poblets and Montepino Spain.
Mastered by Loki Lockwood at Creep Hollow in Melbourne Australia, it's brought to your ears and hands by La Vila Nova Records in Spain, Folc Records in Spain, Beast Records in France and Golden Robot Records in Australia.
Tags: beast records, johnny casino, box set, folc records, asteroid b12, golden robot, 5 x 7 days of wine and cola, the secrets