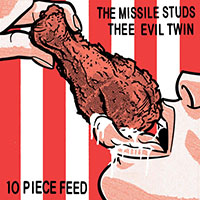 10 Piece Feed - The Missile Studs/Thee Evil Twin (Evil Tone Records/Dirty Flair)
This is a marriage made in Fast Food Heaven. "10 Piece Feed" pits Adelaide scuzzballs The Missile Studs against Sydney's recently dissolved punk trio Thee Evil Twin over a 10-song split LP, and it's hotter than a fire in a chip shop grease trap.
Split albums can be disappointing but the contrasts and similarities in both bands work well here. The Studs are more of your traditional thrash-y punks while Thee Twin have a '60s garage undercurrent. Neither band is a slave of studio polish, and they possess equal amounts of humour and energy. Breast or Thigh? Plenty here to appease fans of either - or both.