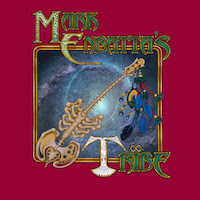 Mark Enbatta's Tribe - Mark Enbatta's Tribe (Bam Balam Records)
Way back in the early '80s, The Vietnam Veterans were the first French psychedelic band to grace a turntable in the I-94 Bar. It was their debut ,"On The Right Track Now" LP, and the wigged-out faux '60s atwork and cover of Roky's "I Walked With A Zombie" (reprised, even) were as attractive as its bargain price tag as it sat in the Phantom Records rack.

It was weird stuff and out of left-field for someone then on a strict listening diet of Citadel Records post-Birdman fare. Over the course of six albums, until dissembling in 2009, the Vets carved a niche for themselves and toured extensively around Europe.
Like KISS, the Eagles and various other outfits whose names I can't believe I typed, let alone throught of, it was one of those splits that really wasn't one. Various members played together under different names - most notably as The Gitanes and Vietnam Chain. Founding Vets member Mark Enbatta was the glue in those collaborations an d now ropes in two of his comrades for this, his second album under the Tribe moniker. Keyboardist Lucas Trouble is absent because he passed away in 2016, and it's to his memory that the album is dedicated.