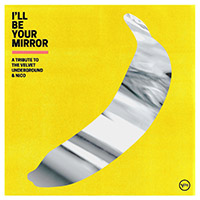 I'll Be Your Mirror: A Tribute to the Velvet Underground & Nico – Various Artists (Verve)
Tribute albums usually have their fair share of lowlights bordering on the "what the fucks". Worst still, their highlights usually rank at a mere meh. At best, someone will pull off a single worthy take of something and rescue the whole project from being a waste of time.
The first Velvet Underground album is now an unquestioned classic seen as a cornerstone of modern rock. It does this because of, not in spite of, its "dangerous" themes and avant-garde sound. Even the "pretty" songs seem to arrive from another world, twisted by low-fi audio recording.
Sir George Martin was not at the mixing desk. And that is why the first Velvet Underground album rules. Oh, that and genius players and songwriting. That didn't hurt.