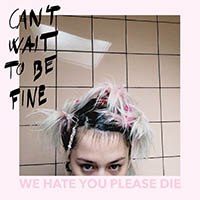 Can't Wait To Be Fine – We Hate You Please Die (Buttercup Records)
Don't attempt to pigeonhole this band. It won't do you any good. We Hate You Please Dieplay what you could broadly term lo-fi garage rock, but that's where the preconceptions end.
There's a whimsical fragility to these 12 songs that make them odd and compelling. There's also sharp musical ability and some keen song-writring.
"Can't Wait To Be Fine" is the second long-player for the two girls/two guys band from Rouen in France (their first "Kids Are Lo-Fi" came out in 2018) and it's evidently a kick against the twjn pricks of brainwashing and society's demands to confirm.