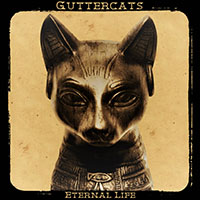 Eternal Life – Guttercats (Take The City/Wishing Well/Sweet Grooves)
If you're one of those genre freaks with a need to categorise every record, good luck. There's enough going on here to challenge the most obsessive.
Guttercats are from Paris and take their cues from The Only Ones, Rowland S Howard, the Jacobites, the Bad Seeds and The Gun Club. Their fifth album mixes melodramatic Baroque folk-pop with garage rock, punk and Gothic blues. It's either hopelessly mired in the '80s or bravely staking a claim to a unique place in today's bland music scene.