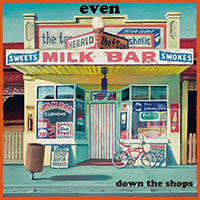 Down The Shops – Even (Cheersquad Records and Tapes)
Even's newest release, "Down The Shops" is a collection of covers recorded and released between 1996 and 2019.
Many appeared on Even's CD and vinyl singles and others are better known from tribute albums. The songs are a mixture of studio recordings and live performances.
While the selection of songs points to obvious influences- Kinks, Beatles, Yardbirds, Master's Apprentices - it also encompasses less obvious sources such as the MC5 and the Sex Pistols.