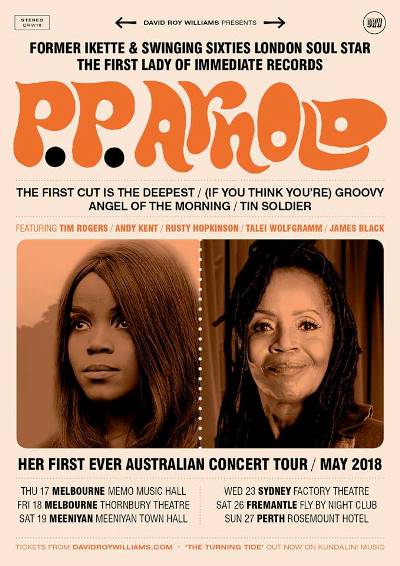 Best known for her beautiful and classic mid-to-late '60s hits including "The First Cut Is The Deepest", "(If You Think You're) Groovy" and "Angel of the Morning", as well as the power chorus of the Small Faces' iconic hit "Tin Soldier", PP Arnold is set to undertake her first ever concert tour of Australia.
And she'll be backed by a super group of super fans in Tim Rogers, Rusty Hopkinson and Andy Kent of You Am I, Talei Wolfgramm and James Black.
The Los Angeles teenager, who became London's First Lady of Soul after hitting town in 1966 with Ike & Tina Turner and coming to the attention of Mick Jagger, is still going strong. And she's once again at the right place in the right time, as she has been so often in a career that's lasted over 50 years.
PP's tour down under follows the release last year of "The Turning Tide", an album of unreleased recordings from the late '60s and early '70s, produced by both Barry Gibb and Eric Clapton. It cracked the UK Top 30 upon release, recently made the NZ iTunes Top 20, and has been the subject of many accolades and much airplay since its release.
Although this will be PP's be first concert tour of these parts, she has previously performed here as a featured singer with Pink Floyd's Roger Waters in 2002 and 2008. In recent times she has also recorded with Primal Scream, Oasis, Ocean Colour Scene and Paul Weller. She has a voice that other artists love to work with; her first duet was with Rod Stewart on a single produced by Mick Jagger, way back in '67.