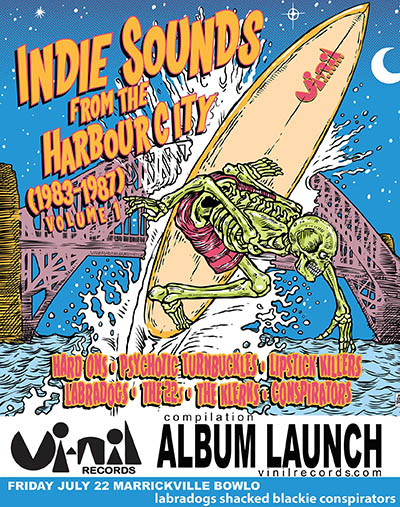 Back in the 1980s, Sydney indie label Vi-Nil Records released the likes of singles by Hard-Ons, Lipstick Killers, Psychotic Turnbuckles, Labradogs, Conspirators, The Klerks and more. Forty years on, a new compilation album "Indie Sounds From The Harbour City (1983-1987)" showcases the cross section of bands on the label, and has been pressed on 14-track splatter vinyl and a 20-track, digipak CD.
To celebrate the album and the re-launch of the label, a series of kickarse live shows are locked in for late July. The first album launch is at Marrickville Bowling Club in Sydney on Friday, July 22, featuring the seasoned power pop of The Labradogs, the garage/punk/psych sounds of newly signed teensters Shacked, the stripped back intimate airs of Peter Black (aka Blackie from Hard-Ons) the Detroit garage energy of The Conspirators (playing a very rare show).
Tickets go on sale hereon Tuesday.
Lion Island, Labradogs, Shacked and Blackie will play a second launch at Link and Pin Cafe in Woy Woy onj July 23 and the4 Hamilton Station Hotel will host a Newcstle launch on July 24 with Disgraceland, Shacked and Labradogs. Pre-sales for the album are open here.