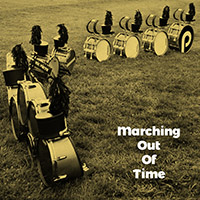 Marching Out of Time – Various Artists (Popboomerang)
With 115 releases to its credit, Melbourne's Popboomerang is as an amazing independent record label success story and a beacon for under-the-radar Australian pop. Presuming, of course, that success is measured in quality music and not sheep stations.
The labels been a long-time labour of love for owner Scott Thurling and that passion makes his decision to close it down, at least for now, all the more noteworthy. In his own words:
Being locked up can do funny things to you! I will admit to feeling a little frustrated on July 24, 2021, when I made the announcement to end Popboomerang Records. The news might have been a surprise to some, but it was one I had been contemplating for a while.
Covid-19 challenges to running a label were the tipping point after 18 months of cancelled live events and the gigantic increases in the price of international postage which was making exporting almost impossible.I had also recently established a new record label, Sound As Ever 90-99, focussing on Australian '90's indie music, which was taking off, and it felt impossible to do justice to both ventures at the same time.