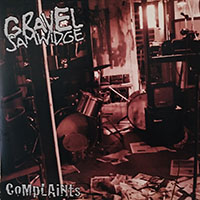 Complaints – Gravel Samwidge (Swashbuckling Hobo)
It's quite unpleasant, and I may never listen to it again.
But if I do, it will be very loud, and I will end up in jail.
I like Gravel Samwidge. They're out of kilter with everything else around right now. The songs put the listener right in the singer's place, their intense, irritated narrative. The Gravels write songs as natural to Australia as the King Brown Snake, and just about as cuddly.
The Barman's right when he makes the comparison to Kim Salmon and the Surrealists (see "Don't You Know", with the silly/ griping sax, or "Briz 31", with the topply structure), but The Gravels have their own - possibly stranger - take on the universe and our misplacement in it. 'Long Distance Drive' captures that horrible last part of a long drive, when you're almost home, spaced out from too much driving and methadone, frantic to get there (Spinks' manic guitar sounds like a whizz-head on violin) yet forcing yourself to stay calm.