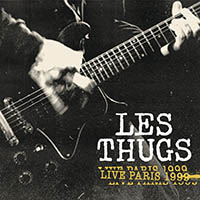 Live Paris 1999 – Les Thugs (Nineteen Something)
The first overseas signing for soon-to-be famous label Sub Pop, championed by Jello Biafra and Greg Shaw, and one of the few French bands to tour relentlessly around the USA, Les Thugs deserved to be more than a blip on the world's music radar.
You could go broke collecting the back catalogue of Les Thugs. It's all out of print and the rarest of it fetches biggish money on eBay. The band lasted from 1983-99 and bounced around on various labels. This album is their 10th and documents a show on their farewell tour of their homeland.
The sound of Les Thugs – named for the 12th Century Indian brotherhood of the ThuggeeThuggee who used to kill the rich for their money, not your standard bovver boys - is a few steps removed from their punk rock beginnings when they were formed, DIY-style, by brothers Eric and Christophe Sourice. It's dense and intense, two guitars with enveloping harmonics and textured bass-lines.