T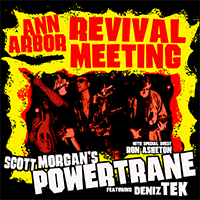 he American college town of Ann Arbor - A2 to the locals - has a lot to answer for. This re-issue of a long out-of-print live recording of some of its famous sons makes it apparent.
Originally released on CD only by Philadelphia's Real O-Mind Records in 2002, it's on vinyl as well as shiny silver disc this time around, and marks the return of David Laing's Grown Up Wrong label.
Everything about this show smokes. Powertane were the vehicle for A2 legend Scott Morgan, a soul prodigy (The Rationals) who made up a quarter of one of the greatest guitar rock and roll bands to ever go MIA in the mists of musical legend status, Sonics Rendezvous Band.