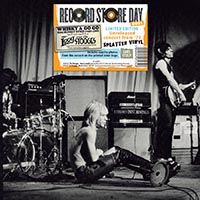 Live at The Whisky A Go Go – Iggy and The Stooges (Easy Action Records)
It's ridiculous to say, as many of you have, that the management at the I-94 Bar treats Stoogesrecordings with the reverence of ancient religious artefacts.
Let's dispel that untruth right now: We hold them in much higher regard than that. If you want to know why, go no further than this Record Store Day vinyl release.
Record Store Day was a good marketing idea that devolved into a clusterfuck. Sure, it encourages otherwise disengaged to find a bricks and mortar shop and lay down their hard-earned, but it's been taken over by greedy fucks who run major labels that issue/re-issue "product" that cost them sweet fuck-all, or recouped a million years ago.