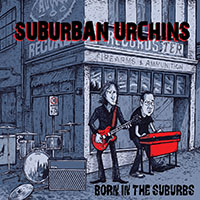 Born in the Suburbs – Suburban Urchins (Aeroplane Records)
The concept of "let's get the band back together" isn't new. Not by any stretch. And the thought of yet another obscure '80s garage rock crew reassembling and trumpeting how good they were/are doesn't automatically fill anyone with confidence.
Of course, the proof of the pudding is always in the eating. If only every band's midlife crisis sounded this good.
Suburban Urchins were a mid-'80s band from Hobart, the epicentre of a small but fevered Tasmanian underground music scene that notably spawned The Philisteins, with whom they shared stages.