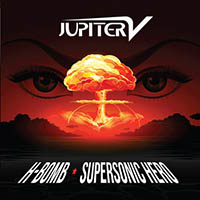 H-Bomb b/w Supersonic Hero - Jupiter 5 (I-94 Bar Records)
First up I confess I only know one of the members, Peter Ross the bass player, and love him and label head The Barman. Even so, I wouldn't say I liked a record just to please them. They know if I didn't like this, I'd (1) tell them, and (2) refuse to review it.
The Barman asked if I wanted to review this. Funny, when friends ask me to review stuff, the paid professional refuses, because if the disc is shit, how do you say it's shit without pooping on your friendship? Also, the Chief Editor or Drunk In Charge will squeak about conflicting interests. Well, for some people that's invariably the case. Our pollies have always had a talent for entertaining us with stories like "I didn't know", "It was like that when I got here, honest" and "Look, define blackmail..."
You've all been in a similar situation, I'm sure. Perhaps not as a reviewer (nor, indeed, as a blackmailing fuckstick), but maybe rolling out on a Friday or Saturday to see your friend's band and, boy, did they suck the fat one. Thereafter, each weekend until the band thankfully collapses amid acrimony and blame, your excuses come thick and fast, from "her indoors is sick" to "I crashed the car" via "the dog ate my mobile" and "the police found my nightstick"...